Talks over teachers' pay have broken down, with "angry and disappointed" workers accusing Scottish ministers of having walked away from the discussions.
Union leaders, who are campaigning for a 10% wage hike for teaching staff, claimed the move brought industrial action in schools across the country a "significant step closer".
Teaching unions have already rejected what they branded a "derisory" pay offer.
After police were awarded an immediate 6.5% pay rise last week, teachers involved in the negotiations complained the Government appears unable to find extra cash for them.
The unions involved will meet to discuss their next steps, but it is likely they will ballot their members on action.
Talks had been taking place through the Scottish Negotiating Committee for teachers (SNCT), which brings together the profession, local councils and the Scottish Government.
A spokesman for the teachers' side said they are "extremely disappointed" that both ministers and the local authority body Cosla had rejected their proposals.
He added: "In a week when the Scottish Government found the money to pay upfront a 6.5% pay offer to Scottish police officers, it now claims to be unable to find any additional money for teachers."
EIS general-secretary Larry Flanagan also hit out, saying: "It is shameful that Scottish ministers have walked away from the negotiating table in this manner.
"The EIS, and other unions, had offered constructive proposals for Government and Cosla to consider but in rejecting them out of hand, ministers have effectively dismissed the concerns of Scottish teachers."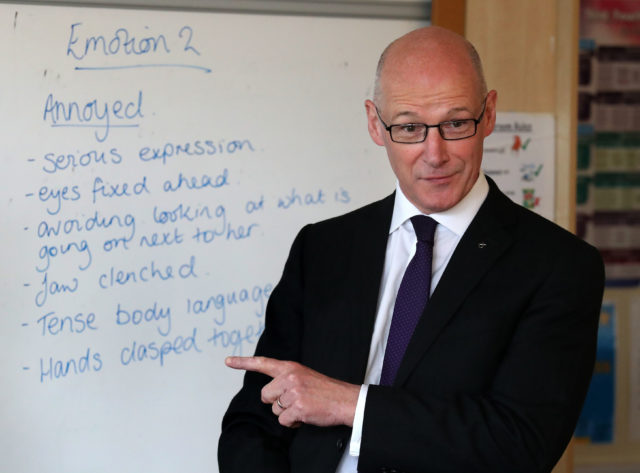 Mr Flanagan added: "In a week when a letter from a primary teacher has revealed the low state of morale amongst Scottish teachers, the Deputy First Minister has shown that he isn't listening. Teachers will be disappointed and angry.
"The prospect of industrial unrest in Scotland's schools has moved a significant step closer as a result of the Government's abandonment of talks."
Seamus Searson, general secretary of the Scottish Secondary Teachers' Association (SSTA), agreed industrial action is now "significantly closer as a result of the Scottish Government's decision to abandon the talks rather than seeking to negotiate a solution".
He added: "The SSTA had believed the Government when it said it recognises and values the commitment and hard work of its teachers. The SSTA had also expected the Government to recognise the damage the austerity measures had made to the teaching profession and support and reward its teachers appropriately."
Education Secretary and Deputy First Minister John Swinney said: "The Scottish Government has worked with Cosla to put in place the best pay deal possible for 2018-19. This includes the Scottish Government contributing an additional £35 million for teachers' pay.
"This will result in all teachers on the main grade scale receiving at least a 5% increase, with some teachers receiving up to 11% in one year in conjunction with annual progression.
"The offer matches or betters other offers in the public sector in Scotland, for example 6.5% for police officers over 31 months. We firmly believe that it is generous and fair and would encourage teachers to consider it favourably."
Mr Swinney also stressed: "The Scottish Government remains very happy to continue discussions with trade unions in securing a negotiated outcome."