Irish presidential hopeful Peter Casey has said he does not give incumbent president Michael D Higgins any credit for meeting the Queen.
Mr Casey said Mr Higgins had not inspired the presidency, as some previous presidents had, and he had "stopped being wonderful" about two or three years ago.
The former Irish Dragons' Den star made the comments as he officially kicked off his election campaign at the Irish emigration museum, Epic, in Dublin's Custom House Quay building.
"The only thing I've heard about Michael D is he was good with the Queen," Mr Casey said.
The millionaire candidate said he was not impressed, as there would have been protocol in place during the 2011 visit.
"I don't really give him points for meeting the Queen," he said.
"I don't think he's done anything bad… but he hasn't inspired the presidency the way that perhaps some of the other previous presidents have."
But the Londonderry native admitted it was Mr Higgins's campaign to lose.
The independent candidate criticised the president for not grasping the opportunity to take part in debates and discuss what he had achieved in the past seven years.
"He had an opportunity to explain and he decided to go and have a cup of tea with Prince Edward," Mr Casey said.
Prince Edward and his wife Sophie, the Countess of Wessex, met Mr Higgins and his wife Sabina at Aras an Uachtarain last month during a royal visit to the country.
Mr Casey added that he seemed to be the only person who dared be critical of the president.
"I'm the only one that's actually sort of suggested that he is anything other than Santa Claus," Mr Casey said. "It's a little bit like attacking Santa Claus when you say anything negative about him."
Mr Casey is one of six candidates running for the highest office in the State.
The 60-year-old will have to fend off not only Mr Higgins but also two of his former Dragons' Den stars Sean Gallagher and Gavin Duffy, Sinn Fein's Liadh Ni Riada and senator and Pieta House charity founder Joan Freeman to take up the coveted role.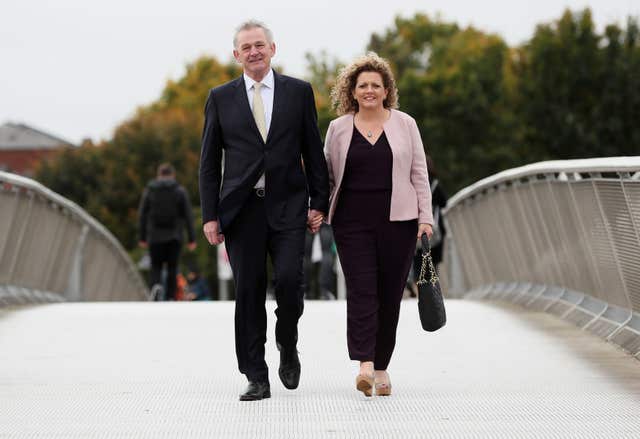 The candidate's wife Helen introduced her husband at the launch as a man with a "fierce sense of right and wrong", who only wanted to make things better.
She told those gathered: "It is with great pride that I introduce you to Peter Casey the next president of Ireland."
Mr Casey said he had a "genuine desire" to really make a difference of the people in Ireland and that he believed the best way to achieve that was by resonating with the diaspora.
The hopeful said he intended to run for president for a second time if he wasn't successful in this campaign, but added that he was "confident I'll be standing again as the president".
The election will take place on October 26.