A group of pensioners are turning their hands to farming after welcoming pigs, goats and chickens to their care home.
Broadwater Lodge, in Godalming, Surrey, has opened an onsite smallholding after a number of animal therapy visits to the home.
The barnyard residents include pigs called Art and Arnie, goats called Shakespeare and Parsley, Rolo the rabbit, two guinea pigs and a small flock of chickens.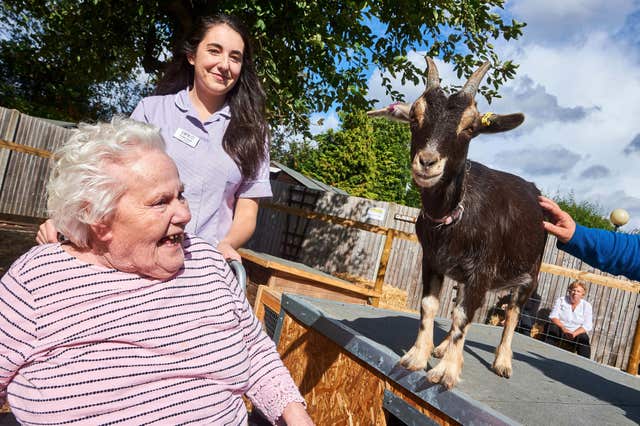 "We are always looking to plan exciting activities for residents and as so many have enjoyed previous animal visits, we wanted to find a way to make animals a permanent part of life at the care home.
"The farm animals have been so well received, and it's lovely to see residents participating in the care of more unusual animals, such as the goats and pigs, which provides real therapeutic benefits for them.
Broadwater Lodge provides full-time residential and dementia care and short-term respite care.
The home said it is planning to host open days for the community, including a visit from a local mother and toddler group.
Meanwhile, Mildenhall Lodge in Suffolk has a resident rescue dog called Sinbad for residents to cuddle, walk and spend time with.
Sinbad has been officially made "canine relations manager" and has been living at the care home for two years.
The dog was rescued by a local charity after he was found wandering the streets of Wisbech.
Home manager Katy Hughes said: "He is so friendly and calming and we know just how beneficial animal therapy can be for older people, especially for those living with dementia.
"Being close to animals can help lift a person's mood, stimulate social interaction and ease agitation and Sinbad is brilliant at doing just that."
The home also has two hens named Gertrude and Lottie, two cockerels called Brian and Tom, a pair of canaries called Mustard and Custard, and Pinky and Perky the budgies.