Street artist Banksy has released a video explaining how he "secretly" rigged one of his most celebrated works to shred itself at auction.
Auction house Sotheby's admitted being "Banksy-ed" when a canvas of Girl With Balloon self-destructed the moment it sold for £1.04 million on Friday night.
It was unclear who had bought the piece, fuelling speculation that the enigmatic artist had been involved in the bidding process himself.
On Saturday evening, Banksy posted a video on his Instagram page which showed a shredder being fitted to the frame of the painting.
The clip shows a hooded figure putting the finishing touches on the device, before text appears on the screen saying: "In case it was ever put up for auction."
Camera-phone footage from inside the auction house in London then follows, capturing the moment a beeping siren sounded as the gavel hits.
The stencil spray paining – which depicts a girl reaching towards a heart-shaped balloon – suddenly passes through the covert shredder and hangs limply from the bottom.
Two attendants are shown rushing over to removed the painting from its fitting and taking it away.
Earlier on Saturday, Banksy had posted a picture of the stunt's aftermath with the caption: "Going, going, gone…"
"It appears we just got Banksy-ed," said Alex Branczik, Sotheby's senior director and head of contemporary art in Europe.
The Bristol-born artist is revered for his subversive work, but, despite rampant speculation, has never officially revealed his identity.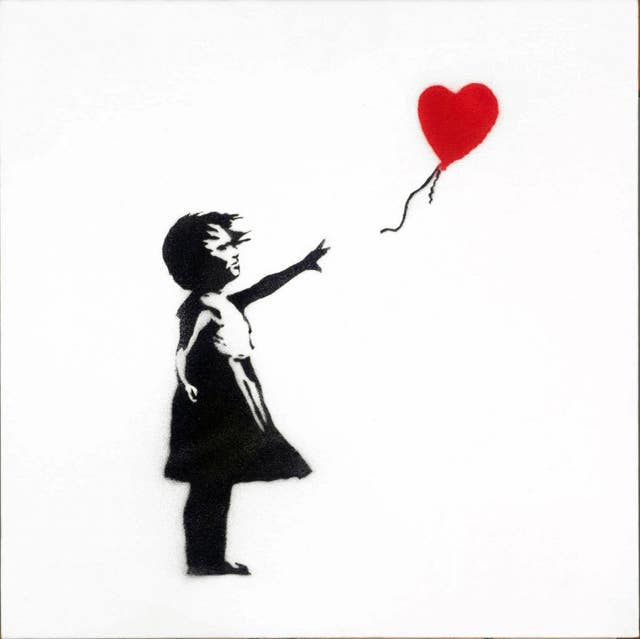 Friday's self-destruction was the latest in a long history of anti-establishment statements.
They included the opening of Dismaland, his dystopian, Disneyland-esque theme park in 2015, which he described as a "family theme park unsuitable for children".
The gallery version featured spray paint and acrylic on canvas, mounted on a board.
Sotheby's refused to reveal who had bought the piece before it was shredded.