Ray Galton, who along with partner Alan Simpson forged one of the country's best-loved comedy writing teams, has died aged 88.
Hancock's Half Hour and Steptoe And Son were among the TV comedy classics penned by the duo during a successful career and friendship that spanned 70 years.
His manager Tessa Le Bars said: "I have had the great honour of working with Ray for over 50 years and for the last 40 as his manager and friend.
"With his lifelong co-writer, the late Alan Simpson, they were regarded as the fathers and creators of British sitcom.
"They will endure, inspire and bring laughter to the nation for evermore."
A statement from the Galton family said: "Ray passed away peacefully, surrounded by his family. We respectfully request there are no attempts to contact the Galton family home at this time."
The pair also wrote television, film and stage scripts for comic talents including Frankie Howerd, Peter Sellers, Leonard Rossiter and Arthur Lowe.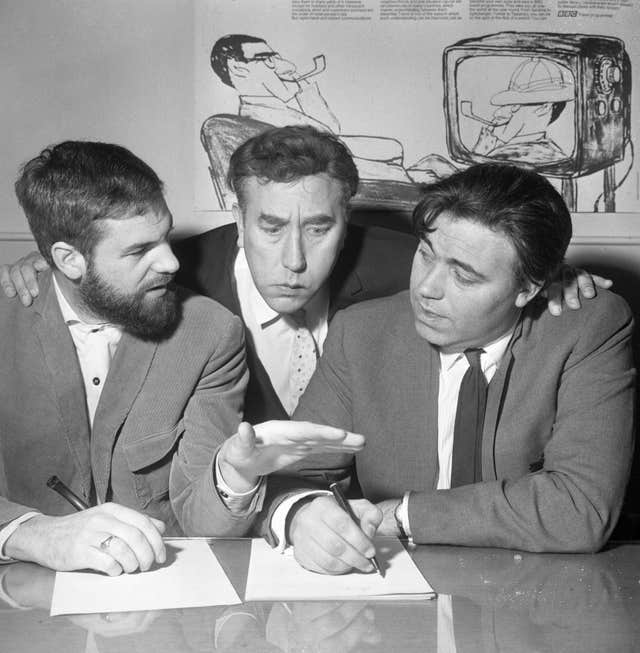 He described Mr Galton and Mr Simpson as "the masters", adding: "What an incredible body of work Ray Galton has left us with. Some of the greatest TV comedy ever written, 'Hancock' & 'Steptoe & Son' are still the gold standard of sitcoms.
"Matt & I got to spend time with him & Alan Simpson. I was in complete & utter awe."
Meanwhile, Emmy award winning comedy writer and producer Simon Blackwell tweeted: "Very sad indeed to hear that Ray Galton has died. He and Alan reached such heights in terms of structure and character.
"Steptoe is as profound as Ibsen, and he never had an old bloke in a sink scrubbing his nuts with Ajax."
Mr Galton met Mr Simpson at Milford Sanatorium in Surrey when both were diagnosed with tuberculosis as
teenagers.
The pair honed their skills by writing for radio, and went on to work on shows such as Calling All Forces and Workers Playtime – where they first worked with Tony Hancock.
Their work is still screened regularly around the world in English and in foreign language versions.
Steptoe And Son was adapted for US TV as Sanford And Son, and ran for several years in the 1970s on NBC.
The much-loved show Steptoe And Son happened after Mr Galton came up with the idea of a comedy series about two rag and bone men.
Critics lauded the "sad, tragic and funny" sitcom, which ran for eight series, spawned two feature films and ended with a 1974 Christmas special.
Mr Galton and Mr Simpson were honoured with lifetime achievement awards from the Writers' Guild in 1997, and OBEs in 2000.
The pair also received the Bafta Fellowship, the Academy's highest honour, in 2016.