A baby in Belfast died from a brain injury due to "violent shaking", a coroner has found.
Caragh Walsh, a 14-week-old girl, died at the Royal Victoria Hospital two days after emergency services were called to her home at Glasveigh Drive in west Belfast on February 5 2014.
Her father Christopher O'Neill was cleared of her murder by a jury in 2017. He has always denied harming his daughter.
An inquest was carried out into Caragh's death last week.
Caragh's mother Tammie-Louise Walsh and a number of other family members wept as the findings were read out.
Mr O'Neill also attended the hearing.
Mr McCrisken warned those present at Belfast Coroner's Court that he intended to read his lengthy findings to silence, and that anyone who interrupted risked being held in contempt of court and taken to the cells.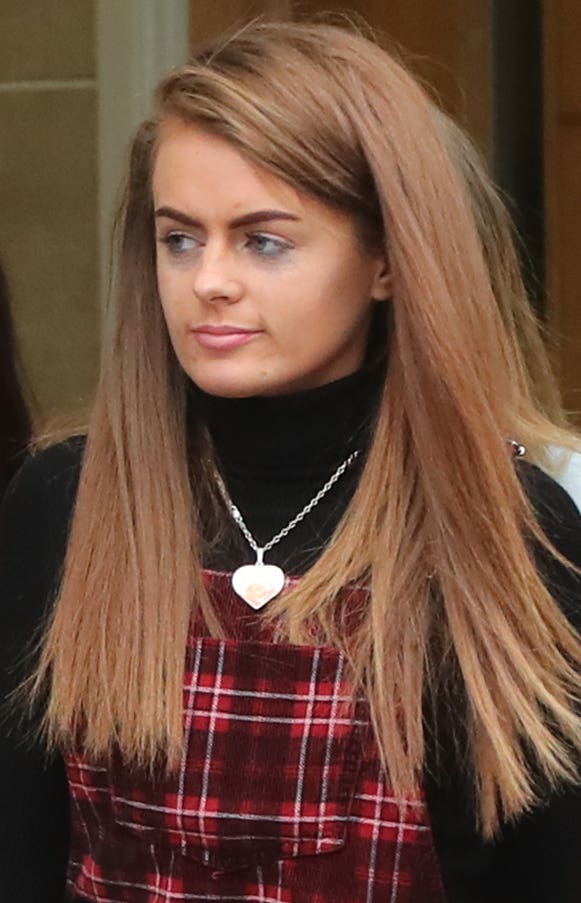 "The events of 5 February 2014 have irrevocably changed the lives of the Walsh and O'Neill families for the rest of their lives," Mr McCrisken told the inquest.
"A tiny baby closed her eyes forever and that tragedy shall weigh heavily on both Mr O'Neill and Ms Walsh for the rest of their lives. Neither will fully recover from Caragh's death."
Mr McCrisken cautioned that an inquest in Northern Ireland cannot apportion blame, express any opinion on civil or criminal liability, or return a finding of unlawful killing.
"An inquest is a fact-finding inquiry and not a method of apportioning guilt," he said.
"This inquest is not a retrial of Mr O'Neill".
Mr McCrisken summarised evidence that Caragh had woken and fed as normal before being left in the sole care of her father.
"He (Mr O'Neill) told the jury at his trial that Caragh was asleep in her bouncer while he was watching a DVD," Mr McCrisken said.
"He said that she woke up crying. He described a painful cry. He lifted her and rocked her gently in his arms. At some point during this he said he noticed that Caragh was having difficulty breathing. He gave police a detailed account of how he shook Caragh in an attempt to rouse her. He described the force used as a five on a scale of one to 10."
Mr O'Neill called 999 for an ambulance. The inquest heard a recording of the call
Caragh died two days later in hospital.
Mr McCrisken dismissed a suggestion made during Mr O'Neill's trial by a medical witness that Caragh had suffered from rickets. He accepted medical evidence that Caragh's bones had been healthy.
He also said he was satisfied that Caragh had suffered injuries to her rib, leg and elbow approximately seven to 10 days before her death. He noted in particular that the injury to her elbow "was extremely serious and must have required an exceptional degree of force".
Mr McCrisken found that Caragh had suffered a cardio-respiratory arrest on February 5 "due to being shaken violently and with extreme force".
"There was no other reason for the cardio-respiratory arrest. I am satisfied that Caragh was shaken at least once, but probably on more than one occasion," he said.
"The injuries to Caragh's brain and eyes required a rapid and substantial acceleration and deceleration of her head and neck.
"I am satisfied that violent shaking caused bilateral bleeds to Caragh's brain as well as severe retinal bleeding and bleeding around the optic nerve.
"The subsequent lack of oxygen and blood flow cause cerebral oedema and irreversible brain damage."
Mr McCrisken paid tribute to the medical staff who tried to save Caragh as having delivered "exemplary care".
"Over the past four years they have been questioned about their actions and behaviour, subjected to cross-examination about their observations and treatment and criticised about their motivation," he said.
"In my opinion, no criticism of the medical team at the Roya Victoria Hospital or those paramedics who treated Caragh is justified."
Speaking outside court, Stephen Tumelty, counsel for Ms Walsh, told the Press Association she and her family were happy with the findings.
"They feel that justice has been served at last," he said.