Any extra barriers to trade between Northern Ireland and Britain after Brexit would be "catastrophic", Arlene Foster warned as she prepared for talks with the European Union's chief negotiator.
The DUP leader restated her red line in a message aimed at both Brussels and Downing Street ahead of her talks with Michel Barnier.
The UK Government has promised to set out further proposals on the "backstop" arrangement aimed at avoiding a hard border with Ireland, with speculation that it could involve regulatory checks on goods travelling between Britain and Northern Ireland.
Mrs Foster, whose 10 MPs play a critical role in propping up Theresa May's administration in Westminster, set out her staunch opposition to any border effectively being drawn in the Irish Sea.
The EU's proposed backstop would see Northern Ireland effectively remain in the customs union and single market while the rest of the UK shifts away from Brussels' rules, something the Prime Minister has already said would be unacceptable.
Mrs Foster said: "As we leave the EU, we should do so as one nation.
"The United Kingdom single market must be protected with no new borders between Northern Ireland and Great Britain being created. From day one this has been the DUP's only red line.
"This red line is recognising that Great Britain is Northern Ireland's biggest market.
"Over 70% of all goods leaving Belfast port are destined for Great Britain. To create a barrier to that trade would be catastrophic."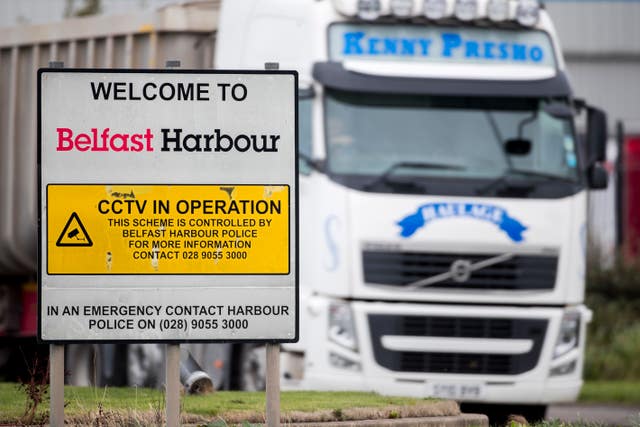 Steve Baker also claimed senior figures in Government are seeking the softest form of Brexit, potentially to allow the UK to rejoin the European Union, a former minister claimed.
Mr Baker, who was a minister in the Brexit department until July, suggested "powerful forces" in Government were seeking to keep the UK in arrangements similar to the single market and customs union.
Meanwhile Mark Harper, a former chief whip, urged Mrs May to scrap her Chequers plan because it will never get through the Commons.
He said Mrs May should "unite the party around a comprehensive free trade deal that she can actually get through Parliament".
The normally loyal MP told the Daily Telegraph: "We are going to have to carry this deal on our own benches. If you're the Prime Minister you do have to listen to colleagues."
Downing Street has played down expectations of agreement on Britain's withdrawal from the EU at a crunch summit next week, warning that "big issues" remain to be resolved.
The Prime Minister's official spokesman said further concessions were needed from the EU side, and warned that no withdrawal agreement could be sealed without a "precise" declaration about the post-Brexit relationship.
The comments appeared to pour cold water on upbeat assessments on the prospects of a deal made by senior EU figures over recent days.
The October 18 summit in Brussels had initially been pencilled in as the deadline for agreement on withdrawal.
But Downing Street would say only that the UK was working for a deal "this autumn", fuelling speculation that a special summit in November will be needed to hammer out agreement on issues including the status of the Irish border.
Technical talks are continuing at official level in Brussels this week, but no visit by Brexit Secretary Dominic Raab has been announced, and Downing Street would say only that new proposals on the border issue would be released "in due course".