Only one in 10 drinks sold in hospitals in England will be sugar-sweetened beverages, it has been announced as part of the NHS's efforts to curb rising levels of obesity.
Efforts to restrict sugary drinks sales could help patients, visitors and staff cut down on their sugar intake.
It is estimated that more than half of the NHS workforce in England are overweight or obese.
NHS England said that not only does it have an effect on sickness among the workforce, it also has an impact on the NHS's ability to give patients credible and effective advice about their health.
The national health body announced that all 227 trusts across England have pledged to reduce sales of sugar-sweetened drinks to 10% or less of their total drinks sales.
Trusts already signed up to the pledge have seen significant reductions in sales of sugar-sweetened drinks.
The proportion of drinks sold on NHS premises that contain added sugar has reduced to just 7.4% in participating trusts, NHS England said.
This means that nearly 30 million teaspoons of sugar have been removed from NHS canteens, shops and vending machines as a result.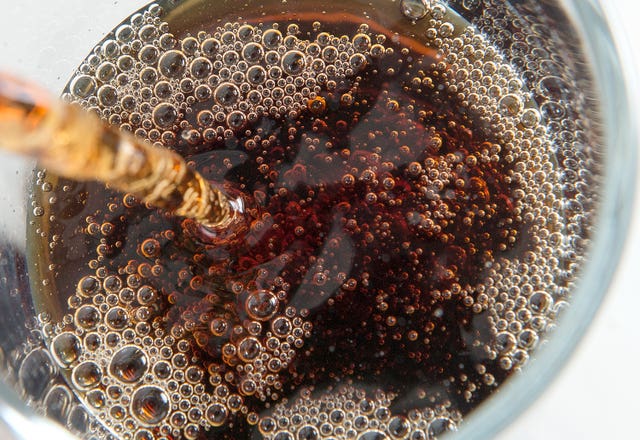 "Obesity and its associated dangers is a worrying challenge facing the NHS and so it is crucial, as we draw up a long term plan for the future of the NHS, that we take action where we can to avoid a long list of preventable problems in the years ahead."
NHS England said 23 NHS Trusts and two retailers have decided to stop selling sugary drinks altogether.
Trusts have already been incentivised to limit confectionery sold in hospitals.
Professor Jonathan Valabhji, national clinical director for diabetes and obesity at NHS England, added: "We have been clear that the growing obesity rates sweeping the country are a public health crisis.
"Obesity is associated with type 2 diabetes, heart attacks, many of the common forms of cancer, and a string of other illnesses.
"Our own sugar restrictions are delivering good results and as part of the long term plan we are exploring all potential options, including very low calorie diets to tackle obesity and type 2 diabetes."