British soldiers deployed on the UK's biggest military exercise for almost two decades have said they are relishing the challenge of Oman's searing heat and dusty, austere desert.
Exercise Saif Sareea 3 officially began on October 5 and will see more than 5,500 UK personnel and 65,000 of their Omani counterparts poised to take part over the coming month.
The extreme desert heat can hit soldiers and their weapons alike, while dust can cripple even the most expensive high-tech kit, a problem graphically illustrated during Saif Sareea 2 in 2001.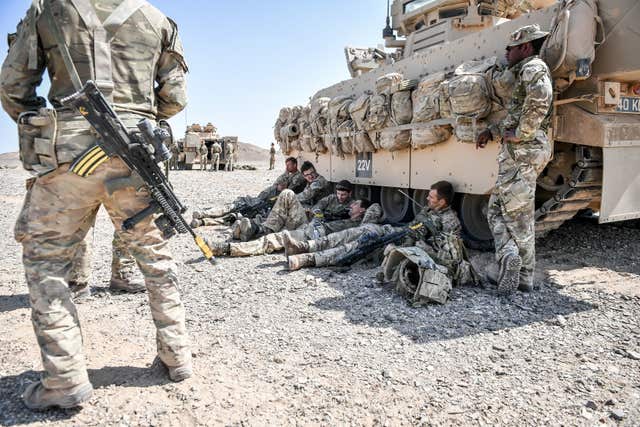 The 26-year-old who is from Thirsk near York, said: "You have got to nurture them through, this is an absolutely insane environment.
"You have got all the dust, so there will be minor problems.
"But in terms of catastrophic failures, we have not had that many, it is more about a bit of TLC, knowing when to stop and clear the filters."
On his first overseas deployment on a large exercise, he said he is looking forward to working with his Omani colleagues, with the two set to begin training together in the coming days.
"The Challenger Two is obviously a British tank, they (the Omanis) are the only other country that uses it.
"So what we want to give to them is our little skills and drills," he added.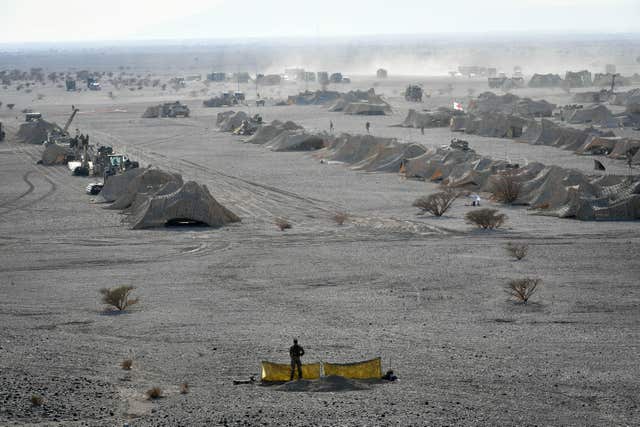 Asked whether he thinks the experience of Saif Sareea 3 is beneficial, Capt Baker said it "absolutely is".
"If nothing else it is one hell of a life experience, coming out to the desert for six weeks operating on a tank with your mates, this is what it is about," he added.
Capt Baker was speaking after a manoeuvre involving B Company from the 1st Battalion, the Mercian Regiment, which the Royal Tank Regiment are operating alongside.
Over the next four weeks, more than 18 Challenger Two battle tanks and 61 Warrior armoured vehicles will feature in the exercise, culminating in a live fire demonstration next month.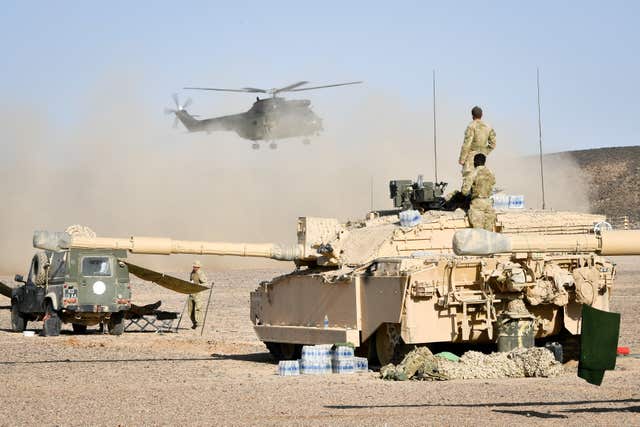 The 33-year-old who lives in Bulford, Salisbury Plain, and is originally from Fiji said: "It is a bit difficult with the kit, obviously with the heat and the dust, it is a new environment for us.
"But you just have to adapt and go forward."
He revealed that alongside the heat acclimatisation they undertook on arriving in Oman, they have been looking to carry out repairs or their work during the cooler hours.
Sergeant Robert "Coops" Cooper, of B Company 1 Mercian, said he has seen the mercury rise to 47C (116.6F) during the time he has been in Oman.
Once stopped, soldiers could often be seen brushing large gatherings of orange-tinted dust off the vehicles, with Sgt Cooper revealing the filters on the Warriors do get clogged up with it.
Asked whether he thinks the exercise is important, he said it is, otherwise there becomes a "skill fade" issue, adding: "When else would we operate in this environment?"
His colleague Sergeant Darren Thomas, 32, from Cannock, Staffordshire said they have proven they can operate on Salisbury Plain and Canada, but added: "We want to see if we can do what we do out in one of the worst or harshest environments that there is."