An investigatory website which named two of the suspects in the Salisbury nerve agent poisoning will reveal how it unmasked the second man as a Russian military doctor.
The two men accused of the attempted assassination of ex-Russian spy Sergei Skripal were originally named by the UK authorities as Ruslan Boshirov and Alexander Petrov – although it was made clear that the names were aliases.
The 39-year-old graduated from one of Russia's elite Military Medical Academies, the group's website said.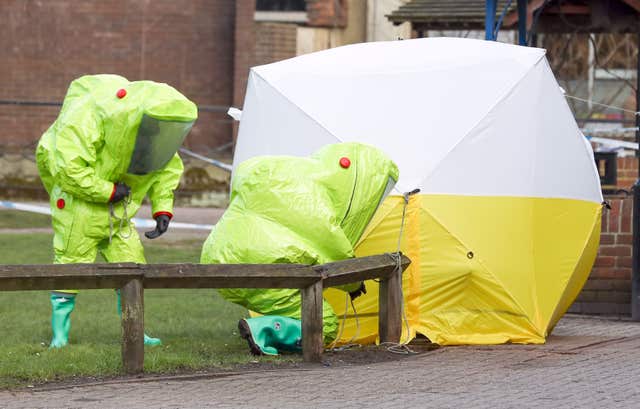 Bellingcat has already identified Boshirov as Colonel Anatoliy Chepiga – a highly decorated officer who also worked for the GRU.
A spokesman for the Home Office said: "We are not commenting as this is still a police investigation."
Further details of Bellingcat's investigation will be released on Tuesday.
The Press Association understands the reported identity is not disputed by UK security services.
It comes after police are believed to have identified a third Russian accomplice alleged to have helped plan the Salisbury nerve agent attack.
The man, from Russia's military intelligence service the GRU, was reported to have visited Salisbury ahead of the poisoning of Sergei Skripal and his daughter Yulia, according to The Daily Telegraph.
The men identified as Petrov and Boshirov are believed to have smeared the highly toxic Novichok nerve agent on a door handle at the Wiltshire home of Mr Skripal on March 4.
The attack left Mr Skripal and his daughter Yulia critically ill, while Dawn Sturgess, 44, who was later exposed to the same nerve agent, died in July.
The suspects were identified as GRU agents and Theresa May said their actions were not a "rogue operation" and would have been approved at a senior level in Moscow.
The activities of the GRU have come under further scrutiny after the agency was accused of trying to hack the global chemical weapons watchdog which is investigating the Salisbury nerve agent attack.
Officials in the Netherlands, where the Organisation for the Prohibition of Chemical Weapons (OPCW) is based, said four Russians had been expelled after the alleged cyber strike.
British intelligence helped thwart the operation which was launched in April, a month after the Novichok poisoning.
The GRU has also been blamed for a string of cyber attacks targeting political institutions, businesses, media and sport.
The National Cyber Security Centre (NCSC) said a number of hackers known to have launched attacks have been linked to the GRU.
The NCSC associated four new attacks with the GRU, on top of previous strikes believed to have been conducted by Russian intelligence.
Among targets of the GRU attacks were the World Anti-Doping Agency (Wada), transport systems in Ukraine, and democratic elections, such as the 2016 US presidential race, according to the NCSC.
The centre said it was "almost certainly" the GRU behind a "BadRabbit" attack in October 2017 that caused disruption to the Kiev metro, Odessa airport and Russia's central bank.