Two survivors of modern slavery will be among the guests invited into the grounds of Windsor Castle for the royal wedding.
The two women from England and Nigeria, who prefer to remain anonymous, will join Salvation Army volunteers in the Lower Ward of the Queen's Berkshire residence.
Princess Eugenie is marrying tequila brand ambassador Jack Brooksbank in the castle's St George's Chapel on Friday.
Around 1,200 members of the public have been given balloted invites to the area in front of the chapel, as have charity representatives, children from Eugenie's old schools, and Royal Household staff.
Eugenie has visited two of the Salvation Army's safe houses and given her support to the charity's campaign to raise public awareness of modern slavery.
Also there will be lifelong Salvation Army member Norree Webb.
The 70-year-old volunteers as a first responder within the SA's anti-trafficking and modern slavery unit, which holds the government contract for offering specialist support to all adult victims of modern slavery in England and Wales.
Mrs Webb is often one of the first people to come into contact with a victim of slavery.
She said: "I feel genuinely privileged to receive this invitation, particularly for performing a role about which I am so passionate.
"It is extremely rewarding to be a small part of the amazing team which makes a difference to the lives of people who have often undergone such horrendous experiences."
Eugenie is an honorary patron of the Teenage Cancer Trust, and the charity will also be represented among those invited into the castle grounds.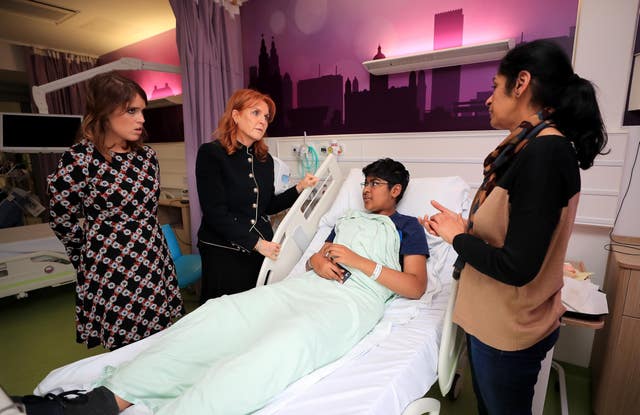 "We have had the pleasure of watching the princess grow up and blossom into the beautiful bride we know she will be today," they said in a statement.
"The princess has been a warm and dedicated patron of this charity, always sensitive to the needs of young people with cancer and eager to help and support them."
Others invited include Kelly Scally, from Stoke on Trent, who is a cancer clinical liaison nurse specialist for teenagers and young adults at Royal Stoke University Hospital; Christine Lowe, from Leigh, who carries out the same role at Lancashire Teaching Hospitals NHS Foundation Trust; and Anna Davies, from Bridgend, who is a Teenage Cancer Trust youth support co-ordinator at the University Hospital of Wales.
The trust is the only UK charity that provides specialised nursing and emotional support to young people aged 13-24 with cancer.