Hundreds of women blocked the road outside the Houses of Parliament as part of a protest against changes to their pensions.
The protest aimed to draw attention to the women affected by the rise of the state pension age, from 60 to 66.
Police were forced to close a section of Parliament Street after traffic was brought to a standstill by protesters sitting in the road.
The protest was organised by Women Against State Pension Inequality Campaign (WASPI), BackTo60, We Paid In You Pay Out, Grey Swans and Pension Reformers.
Ziggi Golding, from Kent, organised Wednesday's rally. The 62-year-old said: "We're showing the Government we're in solidarity and we're not just a bunch of silly women.
"We're all singing to the same hymn sheet."
The protest, which began in Hyde Park and ended in Parliament Square, is the first joint event organised by all of the pressure groups.
Some 3.9 million women have been affected by the changes, with some having to wait for up to six years more to receive their pension.
Carol Emmerson, from Doncaster, said the changes have left her with a £34 weekly allowance after she had to leave her job due to ill health.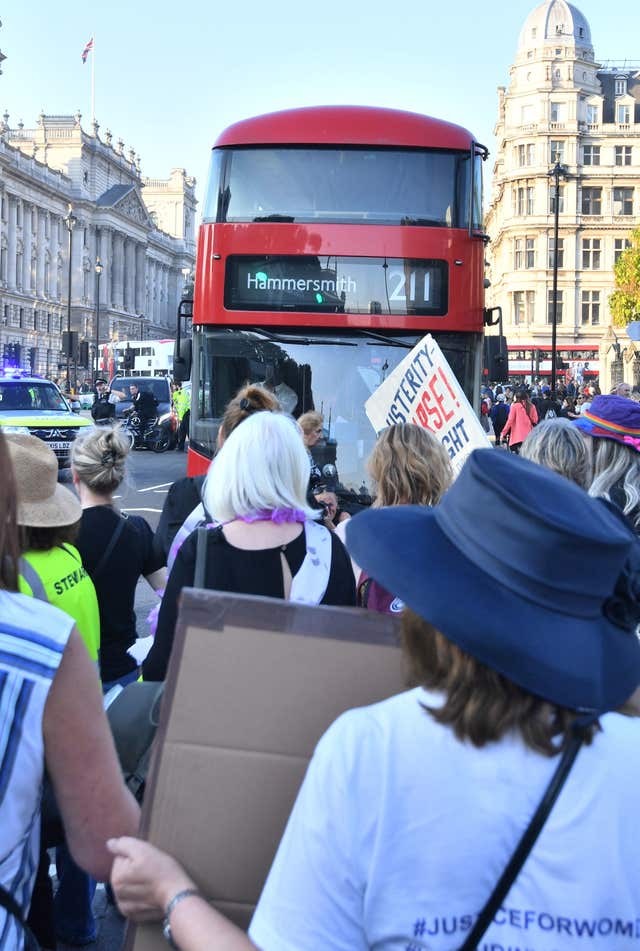 The 63-year-old said: "I'm coming here to fight for all my friends who can't be here, who are working and can't get time off to come.
"We just want them to listen and stop ignoring us."
Many of the women at the protest said they were not informed of the changes to their pension age and had to find out on the internet or through friends or family members.
Mrs Emmerson said: "There are still women out there who don't know this is happening, they're preparing to retire at 62, they've got four more years and they don't even know it yet."
Helen French, from Gloucester, said: "I've lost two years' pension so far."
Women at the protest said the changes have forced them to continue working in order to support themselves.
The 62-year-old said: "I'm a working prison officer. Because I haven't got my pension yet I've been forced to continue to work on the landings of Her Majesty's prisons.
"I have no other way of paying for my lifestyle, which is not exactly expensive."
Michelle O'Sullivan, 55, from Leatherhead, said: "It's not just what it means to me, it's what it means to every single woman who worked and kept families going.
"What's going to happen to our elderly parents? The [Government] are going to have to pay it out in social care.
"After these protests we will keep going, it is our money and we won't stop until we get it back."