Labour under Jeremy Corbyn has moved further to the left than it has ever been before, Tony Blair claimed.
The former prime minister hit out at the "perennial virus" in left-wing politics that viewed attempts to modernise as a "betrayal" of values as he defended his own leadership of Labour.
And he warned that it would be "really difficult for Britain" if Brexit was followed by the "unreconstructed programme" of a government led by Mr Corbyn.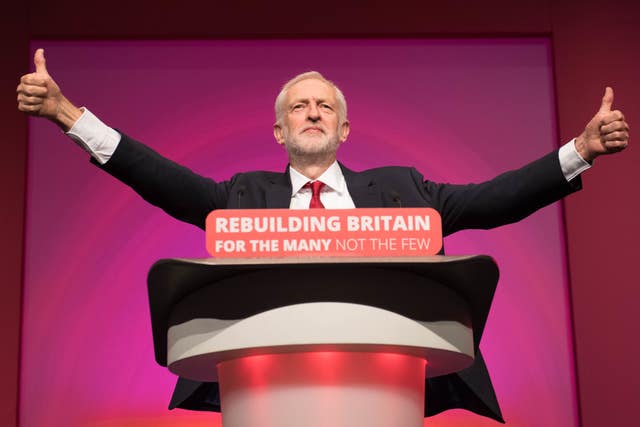 At an event in London, Mr Blair gave his assessment of developments at Labour's party conference in September.
"They tell you that the Labour Party has moved further to the left and the leadership of the Labour Party have consolidated their grip on the Labour Party.
"That is further to the left than the Labour Party has ever been.
"Some people may say that's a good thing, but it is a fact."
Highlighting Laura Smith's call for a general strike to bring down the Government and Dawn Butler's praise for the Militant-dominated Liverpool council of the 1980s, Mr Blair said: "What you always tell about political parties is, what are the applause lines.
"It's a very good test – where is your activists' soul, if you like."
Mr Blair, an outspoken opponent of Brexit, said that if the UK did leave the European Union it would have to take measures to make itself attractive to business in order to protect its economy – something he suggested would not happen under Mr Corbyn.
"The thing that would be really difficult for Britain is if you do Brexit and then you follow it with the unreconstructed programme of a Corbyn government," he warned.
Defending his own record, which saw Labour win three general elections, Mr Blair said the argument after he left was "that when the Labour Party modernises, it betrays".
"This is the perennial virus that gets into Left politics, where they think when you modernise your way of looking at the world you somehow betray your principles.
"That is a classic error and I am afraid it is the error we made."
Mr Blair said the political centre ground was "pretty disenfranchised and pretty squeezed" in democracies across the West.
With the shift in UK politics, Mr Blair said if the "large, empty space" in the centre continued "someone is going to come along and fill it".