The police operation for Donald Trump's visit to the UK is estimated to have cost nearly £18 million, it has emerged.
Thousands of officers were deployed to cover the four-day trip in the largest mobilisation since the 2011 riots.
Sara Thornton, who chairs the National Police Chiefs' Council, said it was a "significant operation" with the US President visiting four force areas and protests taking place in many others.
She said: "Nearly every force supported the operation with nearly 10,000 officers deployed from all over the country, performing over 26,000 shifts.
"The full cost of the operation is still being worked out but an early estimate is nearly £18 million."
Ms Thornton said all forces reported "high demand" at the time of the visit in July, which coincided with increased demand and calls linked to the World Cup, hot weather and numerous events and festivals.
The senior officer added: "These demands affected local policing to differing degrees across the country with the host forces most impacted.
"The majority of forces had to cancel officers' rest days and extend the length of their shifts.
"Despite the challenges, the hard work of officers and staff made sure that the public were kept safe throughout."
Making his first visit to the UK as President, Mr Trump held talks with Prime Minister Theresa May and met the Queen at Windsor Castle, before travelling to Scotland where he played golf at his family's Turnberry resort.
The disclosure comes a day after another of the country's most senior officers warned that policing had reached its "tipping point".
West Midlands Chief Constable Dave Thompson said officers are not as fast at responding to emergencies and fewer offenders are being brought to justice after a 19% real terms reduction in police budgets.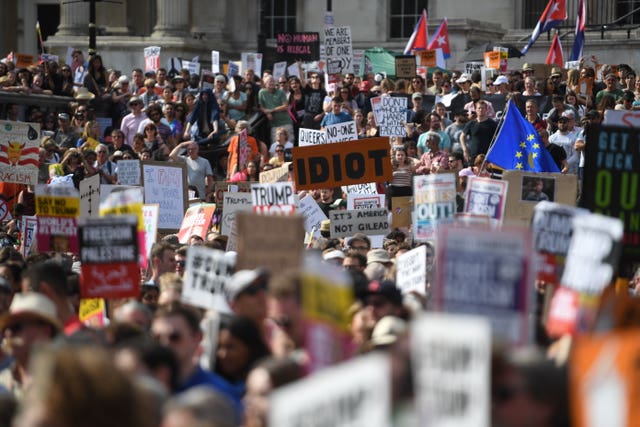 She added that a recent Treasury announcement about changes to employee pension contributions means forces in England and Wales may need to find an extra £417 million by 2020/21.
"This is equivalent to nearly 10,000 officers and grave concern was expressed about further reducing the sustainability of local police forces," Ms Thornton said. "This matter has been raised with the Government and discussions are being held."
A Home Office spokesman said: "The full costs of the policing operation around the visit of President Trump are not finalised and actual figures are not yet available.
"We have not yet received special grant applications from the three forces involved in facilitating the visit. Any applications will be carefully considered once received."
In relation to pensions, the department said the Treasury will provide funding for all costs in 2019/20 of more than £165 million for policing.
The spokesman said: "We will work with police forces and fire and rescue services to understand the impact this change will have upon them.
"The Government is committed to continuing to ensure that the police and fire and rescue services have the resources they need to do their vital work."