Efforts by energy companies and the Government to get fracking off the ground in the UK have been fought every step of the way by protesters.
Here is the low-down on the process.
– What is fracking?
More properly known as hydraulic fracturing, fracking is a process in which liquid is pumped deep underground at high pressure to fracture shale rock and release gas or oil trapped within it.
Assessment by the British Geological Survey suggests there are an estimated 1,300 trillion cubic feet of shale gas resources in the Bowland Shale across northern England.
There are "modest" shale gas and oil resources in Scotland, with an estimated 80 trillion cubic feet of gas and 6 billion barrels of shale oil in the Midland Valley stretching across Scotland and including Glasgow and Edinburgh.
There is an estimated 4.4 billion barrels of shale oil in the Weald Basin in southern England.
But it is not known how much of the resources can be extracted, with exploitable reserves thought to be much lower than the total estimated oil and gas.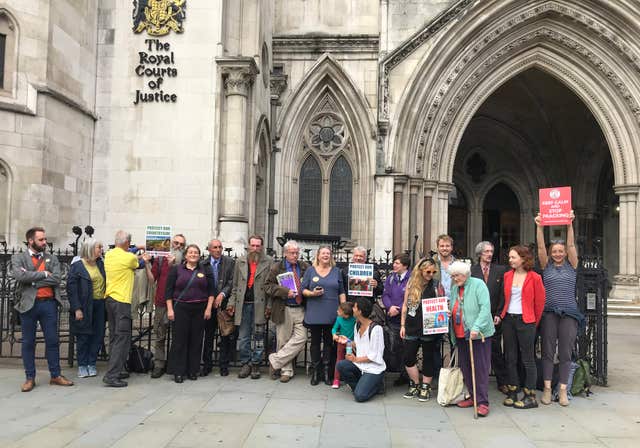 The process has been mired in controversy since it hit the headlines in 2011 for causing two minor earthquakes in Lancashire, prompting a temporary ban on fracking in the UK.
The ban was later lifted, with controls put in place to prevent tremors, but fracking continues to attract opponents who fear it can also cause water contamination, noise and traffic pollution.
Environmentalists also warn that pursuing new sources of gas – a fossil fuel – is not compatible with efforts to tackle climate change, and the focus should be on developing cleaner sources of energy such as renewables.
– Why is it backed by the Government?
Ministers hope it could boost tax revenues, create jobs, reduce reliance on energy imports and bring down household fuel bills, although experts have questioned whether it would have any impact on energy prices.
The Government has taken steps to get the industry going, such as introducing tax breaks and community payments, and proposed changes to planning rules to get schemes off the ground more easily.
Cuadrilla has been pursuing shale gas extraction in Lancashire for a number of years and is now due to commence after a final legal bid to stop them was thrown out by the High Court.
In North Yorkshire near the village of Kirby Misperton, between Malton and Pickering, Third Energy has been granted permission to frack, but is still awaiting final Government go-ahead after Business Secretary Greg Clark raised concerns about its financial position.
It said previously that fracking would not go ahead until at least autumn and with no sign of the deadlock being broken, campaigners have even packed up their protest camp at the site, saying they did not think the protest would go ahead in the near future.
Ineos is embroiled in a legal fight with the National Trust over access to its land at Clumber Park, Nottinghamshire, for surveying, as the company attempts to push ahead with oil and gas exploration in the county.
It is also pursuing fracking at sites in Derbyshire and Yorkshire despite local authority opposition.
– What's the position elsewhere in the UK?
In Scotland, an effective ban on fracking is in place.
In Wales, where responsibility for onshore oil and gas is being transferred to the Welsh Government from October, ministers are proposing not to license any more petroleum extraction or support fracking applications.
In Northern Ireland, there is a planning presumption against fracking.