Downing Street has insisted that the Prime Minister remains "confident" of getting a Brexit deal, despite the failure to bridge differences over the future of the Irish border ahead of this week's crunch summit.
Theresa May is set to address MPs in the House of Commons on the state of Brexit negotiations on Monday afternoon after talks over the weekend failed to produce the hoped-for breakthrough on the so-called "backstop" arrangements for Ireland.
The impasse means that meetings between "sherpas" in Brussels have been cancelled, and UK Government ministers will have no withdrawal plan to approve at Cabinet on Tuesday, before Mrs May travels to the European Council summit the following day.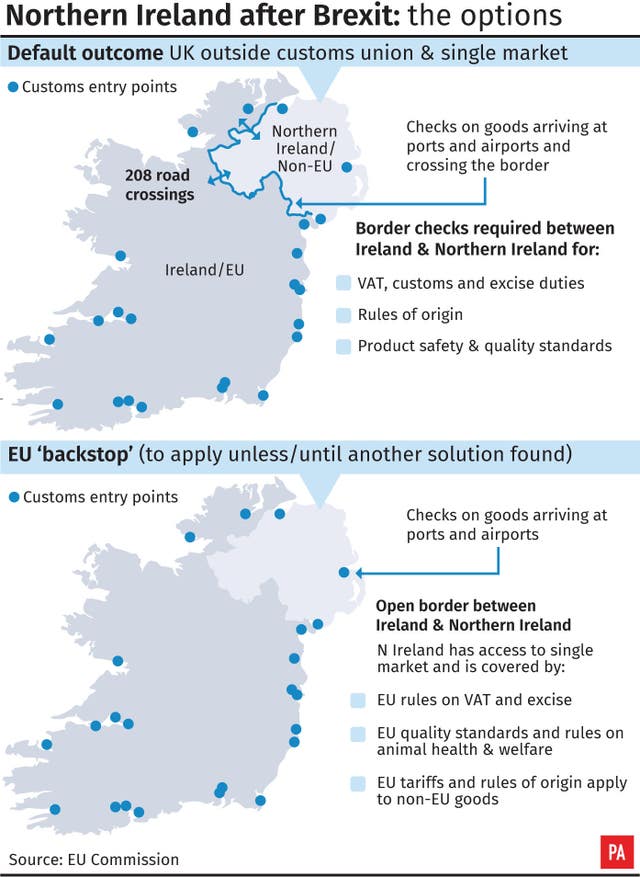 The PM's official spokesman said that "real progress" had been made on a number of issues and the Government was determined to press on with talks.
But he said that the EU continued to insist on the possibility of a carve-out for Northern Ireland which could see a customs border down the Irish Sea – something Mrs May has already said would be unacceptable to any British Prime Minister.
Britain is offering a temporary backstop arrangement under which the whole UK would remain in the EU customs area unless an open border in Ireland was secured by a broader trade agreement.
Discussions were said to have broken down after EU negotiators demanded a "backstop to the backstop", under which Northern Ireland would stay in the customs union after the time-limited UK-wide arrangement came to an end.
"The EU is treating us with naked contempt … (offering) a choice between the break-up of this country or the subjugation of this country, between separation or submission," Mr Johnson told the Daily Telegraph.
Mrs May's spokesman said that reports that a deal had been reached at official level on Sunday, only to break down when Brexit Secretary Dominic Raab met EU chief negotiator Michel Barnier, should be "taken with a pinch of salt".
The spokesman said: "We have made real progress in a number of key areas. However, there remain a number of unresolved issues relating to the backstop.
"The European Union and the UK are both clear that they want to secure a good deal and that is what both sides are working  towards.
"We remain confident of getting a deal because it is in the interests of both the UK and the European Union.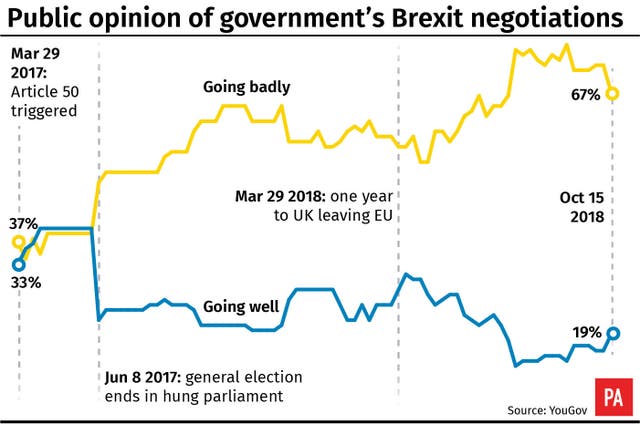 He added: "The EU continues to insist on the possibility of a customs border down the Irish Sea. This is something which Parliament has already unanimously rejected and is not acceptable to the Prime Minister."
Arriving in Luxembourg for an EU Foreign Affairs Council meeting, Irish Tanaiste Simon Coveney said Dublin and Brussels simply wanted Mrs May to follow through with backstop agreements already made in December and March.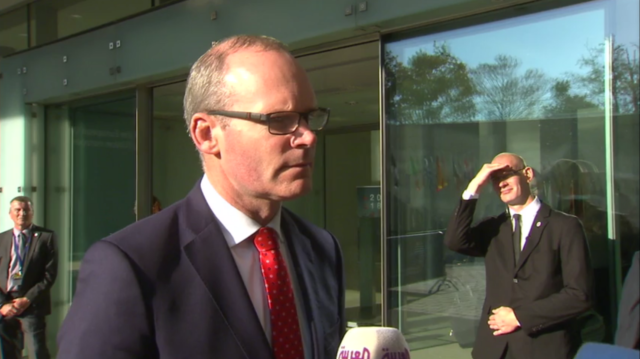 But the DUP's Westminster leader, Nigel Dodds, told the Telegraph: "One part of the UK cannot be left behind, bound to rules set in Brussels. The constitutional and economic consequences of such an approach would be catastrophic in the long run."
The impasse threatens to throw into disarray carefully choreographed plans which would have seen EU leaders meeting in Brussels on Wednesday give the green light to a special summit in November to finalise the terms of the UK's withdrawal from the bloc.
It remains unclear whether Mrs May will be given the opportunity to address leaders of the remaining 27 EU states on Wednesday before they go into a working dinner to discuss Brexit in her absence.
Reports from Brussels suggest that the EU27 are considering instead using the mooted November summit to discuss preparations for a no-deal Brexit.
With Mrs May under siege from Tory Eurosceptics and her DUP parliamentary allies, her room for manoeuvre is severely restricted.
Although the absence of a deal has damped down expectations of ministerial resignations, eurosceptic Cabinet members are reported to be planning to meet over pizza on Monday evening to co-ordinate their stance.
Asked whether Mrs May regarded the so-called "pizza summit" as helpful, the PM's spokesman said: "Cabinet ministers are free to eat whatever they choose. Cabinet colleagues have discussions with each other all the time."
For Labour, Sir Keir Starmer said the Government must now publish details of its revised proposals for the Irish border.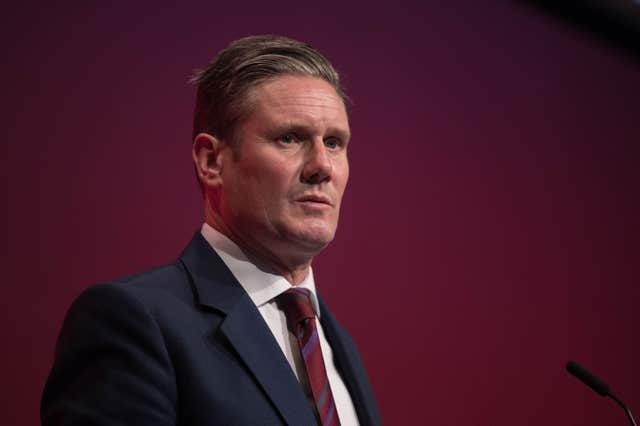 Talks were taking place on Monday between DUP leader Arlene Foster and Irish Taoiseach Leo Varadkar, while Mrs May was meeting Sinn Fein leader Mary Lou McDonald in Westminster.
The febrile atmosphere in the Tory ranks has seen former Brexit secretary David Davis emerge as a potential successor to Mrs May.
Tory MP Nadine Dorries said: "Getting May out and him becoming an interim leader may be the only way to deliver Brexit and FTA (a free-trade agreement)."
Allies of Mr Davis said he has been contacted by several Tory MPs urging him to run for the leadership and he is understood to be prepared to take part in a contest.