A man has died after a landslide as Storm Callum brought flooding and travel misery to the UK with torrential downpours on Saturday.
The man, whose age was not given, died at the scene on the A484 near the village of Cwmduad in Carmarthenshire, west Wales, one of the areas worst-hit by flooding, Dyfed-Powys Police said.
Officers are "dealing with" the landslide and the road will be closed for some time, the force said, adding that the family of the victim is being supported by specialist officers.
Rivers, including the Towy in Wales, burst their banks and homes were left without power as the west of Britain was lashed with rainfall, with parts of south-Wales severely affected, with images showing towns partially submerged across the region.
Rail services were plagued by delays, with severe weather affecting services between Preston and Scotland, across the whole of Wales, and in South West England.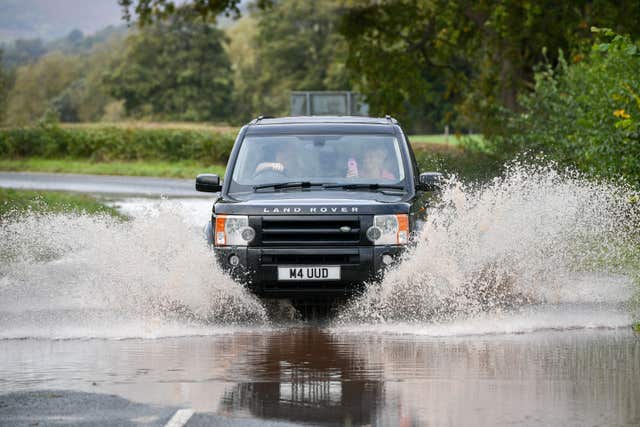 Around 100 sheep were swept away in floodwater at Pontargothi, in west Wales, with police appealing anyone who finds "any sheep washed up anywhere" to call them.
Strong winds saw speed restrictions imposed on many lines while flooding and falling trees also caused problems, with reduced Virgin services between London Euston, Birmingham New Street, and Edinburgh and Glasgow, and delays in Devon and Cornwall, Network Rail said.
Motorists were also warned over tricky driving conditions brought by Callum, with several roads and highways in Cumbria impassable owing to floodwater.
Elsewhere, planned fracking work near Blackpool was postponed until Monday as the region felt the effects of the storm and cranes would struggle in the high winds
An amber rain warning for Wales in place until 6pm warned of danger to life from fast-flowing, deep floodwater, power cuts, and possibly some communities being cut off.
A yellow rain warning covers parts of Scotland, the West Midlands and the north west and is in place until midnight.
One part of south Wales, the Brecon Beacons village of Libanus, recorded 182mm of rain in just 48 hours, way above the monthly total for the region of 169mm.
Met Office meteorologist Simon Partridge said: "We could see up to 100mm of rain for some places (western parts) and the main area of concern is down across southern Wales.
"Here we could see up to 200mm or more in some localised area here and that could bring more flooding.
"Storm Callum is now way to the north of the UK but the rain does still keep coming over the next 12 hours or so."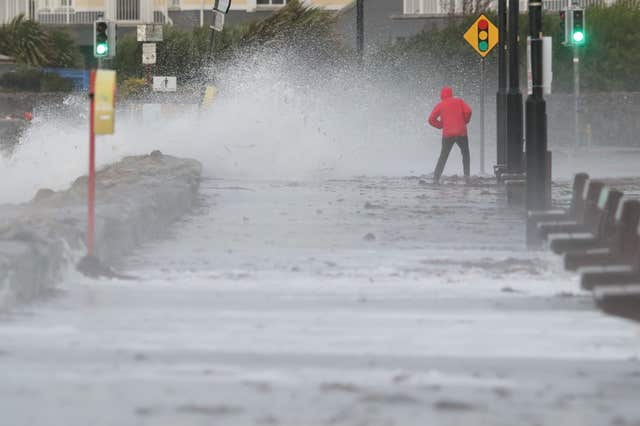 The south east has largely escaped Callum, however by Sunday afternoon there will be a "complete reversal in fortunes" with eastern and southeastern parts getting rainfall while western parts will be dry and sunny.
Storm Callum was named by Met Eireann and is the third named storm of the season to hit the UK.