Princess Eugenie and Jack Brooksbank are pictured holding hands and kissing on their wedding day in official photographs released to mark the event.
One intimate black and white image shows the couple having a kiss inside the Scottish State Coach as they returned to Windsor Castle after the carriage procession.
The newlyweds are said to be "delighted" to share the four photographs, which were taken by British fashion and portrait photographer Alex Bramall.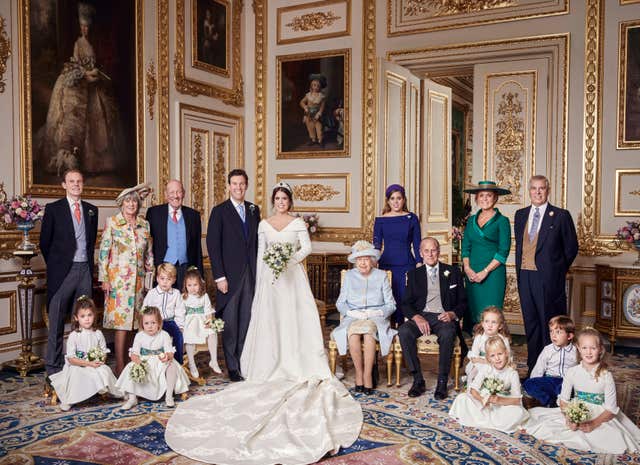 Eugenie's mother – Sarah, Duchess of York – is standing next to a seated Duke of Edinburgh, with the Duke of York to her other side, and all three are smiling for the camera.
The Queen's husband is thought to have a frosty relationship with "Fergie", who divorced Andrew in 1996.
On Friday, a grinning Fergie gave a big sigh of relief as she took her seat in the chapel for the wedding ceremony, and spent a great deal of time waving at guests in the pews opposite.
But she remained composed and kept her head slightly lowered when her former father-in-law passed her to take his seat in the row behind.
It was believed to be the first time they had been pictured together in 26 years after she was cast out from the royals amid her "toe sucking" scandal in the 1990s.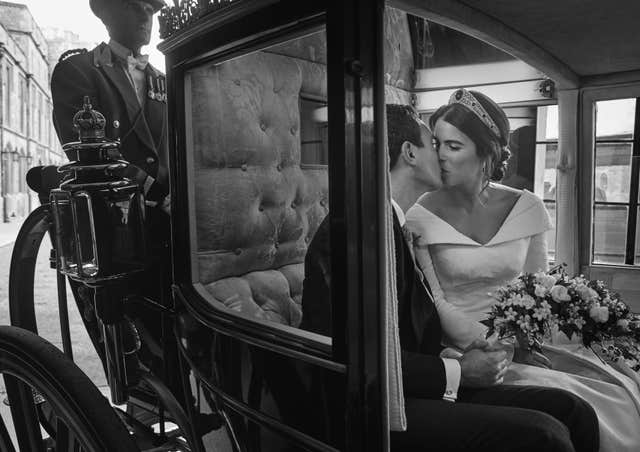 Future king Prince George is looking at the camera with a beaming smile next to sister Princess Charlotte, who is dangling her legs with her feet crossed.
In the fourth photograph, the newlyweds are pictured at the York family home, Royal Lodge in Windsor Great Park, ahead of the private evening dinner.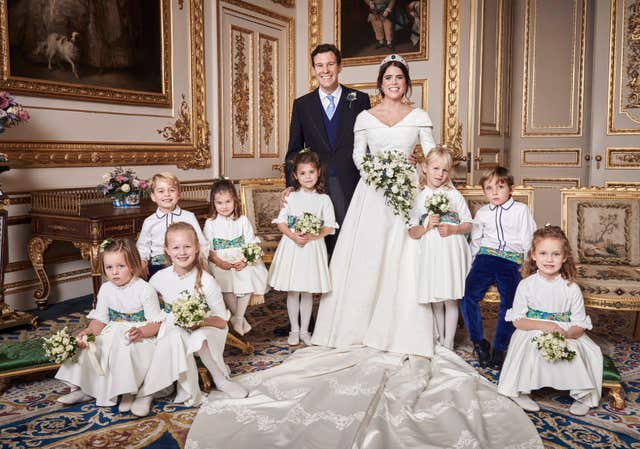 Buckingham Palace said Posen was inspired by the beauty of Windsor and the surrounding countryside, adding that the colour of the dress reflected the blush of an English rose.
He also took inspiration for the design from the White Rose of York.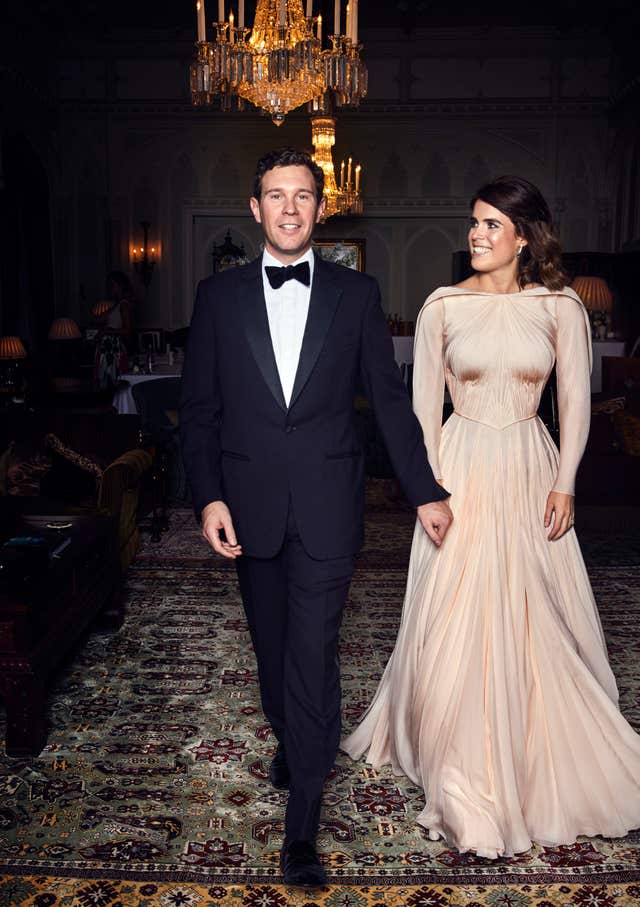 The silk for the gown came from Biddle Sawyer Silk, the palace said.
Eugenie set off her evening look with diamond and emerald drop earrings which were a wedding gift from the groom, and a hair slide belonging to the Queen.
Photographer Bramall said it was "an honour and a privilege" to be invited to photograph the couple.