From the dress that showed off her scoliosis scar to the arrival of the mother of the bride, every detail of Princess Eugenie's lavish wedding has been recorded and analysed by Britain's newspapers.
As the Queen's granddaughter married Jack Brooksbank in the second royal wedding of the year, it is no surprise the event drew comparisons with the Duke and Duchess of Sussex's nuptials at the same venue in May.
The Daily Mail fills its Saturday front page with an image of the newlyweds sharing a kiss on the steps of St George's Chapel – alongside a caption which reads: "Five months after Meghan's showstopper… Nothing second best about THAT kiss!"
Inside, columnist Robert Hardman describes it as "emphatically, Eugenie's day", and says not even a host of celebrities or a full royal turnout could take away the spotlight from the Queen's sixth grandchild.
The crowds in Windsor were "a world away from the boisterous invasion back in May", he adds, but writes: "Yet it was never a numbers game, let alone a competition between two very dear cousins."
The Daily Express, featuring the same main image on its front page of the couple's first kiss as husband and wife, highlights the bride's visible scar, shown off by her low-backed dress, from the surgery she underwent at the age of 12 to correct scoliosis.
"Thank You", the paper's headline reads, and says the dress was chosen specifically as a tribute to the NHS staff who performed the life-changing operation.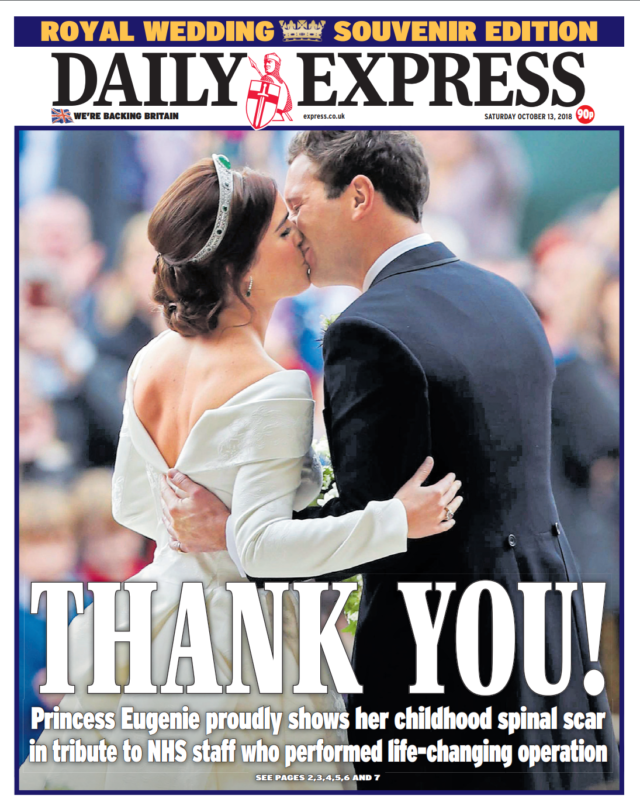 Fashion editor Antonia Kraskowski writes that Eugenie looked "radiant" in the gown, which included "details meaningful to the bride and her new husband".
The Sun focuses on mother of the bride the Duchess of York, revealing how she nearly "stole the show" by arriving six minutes late.
Running with the headline "Fergie Time", the paper adds that the duchess "revelled" being back in the limelight as she returned to the royal fold.
The Times says pre-wedding cynicism about the cost of the wedding were "swept aside", asking: "With a bride who simply seemed incapable of stopping smiling, who could begrudge them their happiness?"
The paper also focuses on Eugenie's decision to wear a low-backed dress, and says it was not the "conventional adornments of beauty that lit up St George's Chapel. It was her scar".
The Daily Telegraph's assessment of the wedding, meanwhile, is simple: "Love won the day".
It adds: "From the Princess's dress, designed to show the faint silvery scar of a life-changing childhood operation, to the fond family speeches, the steadfast young couple were the picture of unshowy devotion."
A comment piece by Judith Woods concludes that the wedding was a "unique and rather lovely" affair, adding: "It may not have been this year's first royal wedding, but it was never going to be second class."