A military snapper has won a top prize in this year's Army Photographic Competition with a stunning set of images capturing soldiers at work over a 12-month period.
Corporal Tom Evans, of the Royal Logistic Corps (RLC), not only scooped photographer of the year for his portfolio of images that portray military life, but also best overall image.
The 33-year-old professional photographer, from Newbury, Berkshire, who is currently on deployment in Norway, said it has been an "amazing and very busy year" for him.
"Being a photographer is the best job in the Army," the father of two, who is based in Brecon, Wales, said.
"That gives us a unique perspective on it all."
Having visited Canada, Afghanistan, Kenya, Estonia and Poland with his work, Cpl Evans said he is inspired by looking back at the history of Army photographers.
"The Army Film and Photographic Unit filmed and photographed the major battles of World War Two. They even won two Oscars. It's humbling to be part of that tradition," he added.
Cpl Evans won the best overall image for his photo entitled Guardian Angel, which shows a soldier sat behind a large weapon with an Apache helicopter looming in the background.
Corporal Becky Brown, from Beverley, Yorkshire, also of the RLC, won both the professional story and professional portrait categories.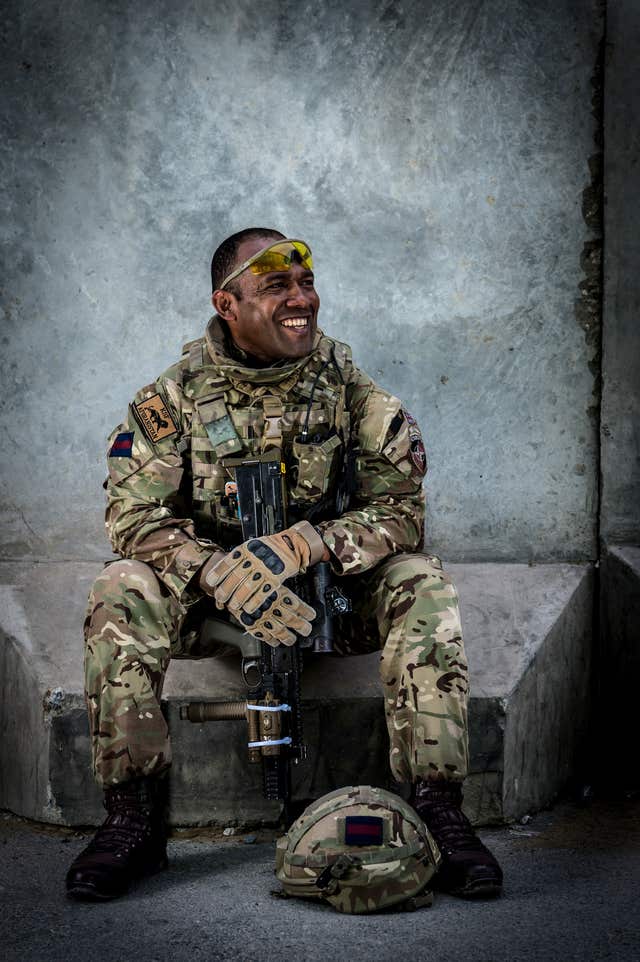 "Our job was to film and photograph different roles out there, and explain to the general public what our guys were doing out there," she said.
"While my colleagues were interviewing one of the Welsh Guards, I was setting up my portrait shot, so I borrowed one of the lads to set up my shot, while I was setting up and he was not aware I was taking his photo, I managed to catch a nice smile.
"I think a lot of people can relate to his expression. Our guys do genuinely enjoy their jobs when they're away from home and out on the ground."
Cpl Brown, who works at Army headquarters in Andover, Hampshire, said she joined as a medic but always knew she wanted to be a photographer.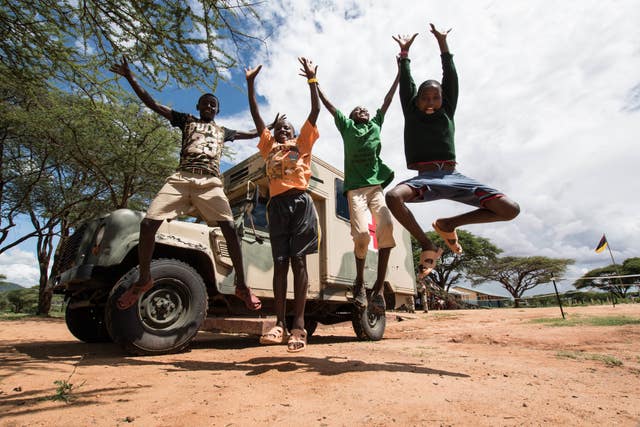 "I attended a one-week selection and luckily for me I was successful and since then it's really taken off and I've not really stopped."
This year's award winners, to be celebrated at a special ceremony held at the Imperial War Museum in London on Wednesday, include:
Professional Category Portfolio: Corporal Tom Evans, RLC
Overall Professional Army Image: Corporal Tom Evans, RLC
Professional Category Portrait: Corporal Becky Brown, RLC
Professional Category Story: Corporal Becky Brown, RLC
Professional Category Soldiering: Sergeant Dek Traylor, RLC
Professional Category Sport/Adventure Training: Sergeant Paul Randall, RLC
Best Online Image (voted by the public): Corporal Amrit Thapa, Royal Gurkha Rifles
Operation Camera: Sergeant Pete George, RAF
Operation Smartphone: Corporal Lee Matthews, RAF
Video: Corporal Tim Jones, formerly RLC, now Fire Service
Social Media Video: Sergeant Jonathan van Zyl, RLC
Cadet Life: Cadet Jasmine Roper, Scarborough, ACF
Amateur Category Portfolio: Corporal Sam Jenkins
Amateur Category Portrait: Colour Sergeant Liam Swan
Amateur Category Sport/Adventure Training: Lance Corporal of Horse Adam Blackmore-Heal
Amateur Category Soldiering: Corporal Sam Jenkins