A top Bank of England official has defended the institution's track record on bullying and harassment after figures showed a spike in investigations during governor Mark Carney's term in office.
The Treasury Committee pushed Sir Jon Cunliffe, deputy governor at the Bank, to "shed some light on the underlying causes" behind the fact at least 23 bullying and harassment cases were formally investigated by the institution between July 2013 – when Mr Carney took the reins – and June 2018.
Those figures – which were were originally obtained by the Press Association via a freedom of information request – compared to less than 10 during the last four years under the previous governor, Mervyn King.
sir Jon insisted that on a like-for-like basis, the figures were relatively similar given the bank has grown to nearly doubled in size since it took on the Prudential Regulation Authority.
He also pointed to an annual survey in which Bank of England employees are asked if they feel treated with respect and believe they can speak up "without consequence".
Sir Jon said scores have gone up over the last five years and are "higher relative to outside organisations".
"One wants no bullying cases and and one doesn't want to have any, and I think we're trying to work in a number of areas, particularly around the well-being programme," he said.
"So I'm not saying nothing having changed is a good outcome but I think, if you can say, they are pretty small numbers for 4,500 people.
"So the law of small numbers affects this a little bit as well."
Sir Jon said while specific bullying and harassment cases have not been discussed it has been raised by senior management "in a broader form".
"Central banks have tended, do tend, internationally towards being quite hierarchical and formal places," he said.
"The modern world of work is not like that … some of this is about how we empower people."
He  highlighted initiatives that bring policy authors into the room to speak to the Bank's senior managers.
"I know it may sound like that should have been happening automatically," he said.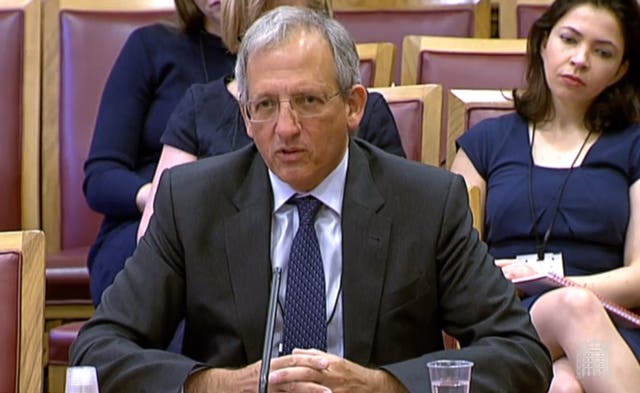 The Bank has come under fire for a lack of diversity among its senior ranks, with its annual report showing the proportion of women in senior roles has fallen from 30% to 29%, while the proportion of black, Asian, minority ethnic (BAME) employees in senior management is down to 5%.
The central bank itself launched an inclusion strategy in 2017, meant to "help strengthen our diverse and inclusive culture" and support an environment that "brings cognitive differences to the fore and a culture that allows everyone to contribute and maximise their potential".
One of Bank's deputy governors, Ben Broadbent, was forced to apologise after being accused of sexism when he controversially described the UK economy as "menopausal" earlier this year.
The Treasury Committee and its chairman have been outspoken on the issue of diversity, particularly in the wake of Jonathan Haskel's appointment to the Monetary Policy Committee.
Mr Haskel won the appointment in May despite a female-dominated shortlist, with four women having been in the running.
It leaves just one woman on the Bank's nine-strong rate-setting committee – Silvana Tenreyro.