High-rise residents called on the Government to immediately remove unsafe cladding from blocks across the country while ensuring they are kept safe from fire and the cold this winter.
Dozens of campaigners and social housing tenants gathered outside the Ministry for Housing, Communities and Local Government (MHCLG) on Wednesday.
Fuel Poverty Action said the Government's commitment to fully fund the replacement of flammable cladding on more than 150 social housing tower blocks was "not nearly enough", urging it to remedy its so-far "disgraceful" record.
The group is asking for measures to ensure residents are not illegally left in danger from cold during the months or years before cladding is replaced, and guarantees that residents will not have to pay extra to keep their homes warm.
A letter, signed by more than 100 groups and individuals, was delivered to Communities Secretary James Brokenshire as demonstrators chanted outside his department.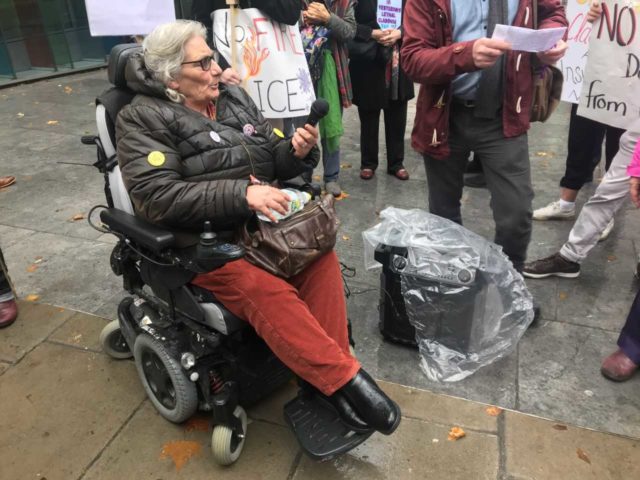 It reads: "Cold, like fire, kills. Even in a normal year, thousands die each year when they cannot heat their homes.
"Residents in many blocks already going through re-cladding know that when cladding is off in the winter, uninsulated flats are places of constant cold, condensation, damp and mould, and astronomical bills.
"Works can go on for months, with families constantly ill. Some are scheduled for nearly two years."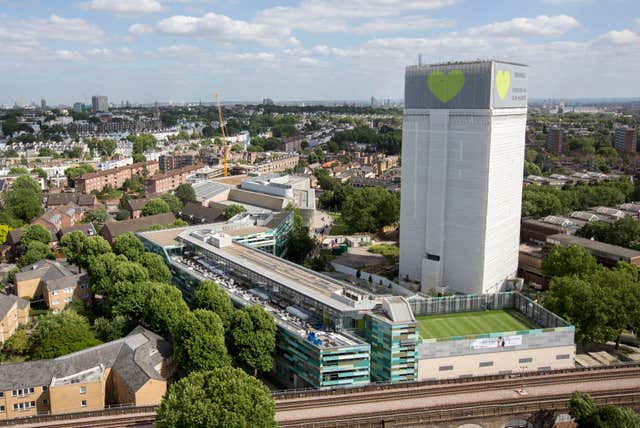 "These factors range from cladding to fire doors, from damp and mould to leaky windows, from repairs left undone to lack of space for tenants and residents to meet."
She said it was "utterly unacceptable" that people were still living in buildings with flammable cladding, 16 months after Grenfell.
Just 32 out of 468 high-rise buildings with Grenfell-style cladding have had the material completely removed, according to Government figures.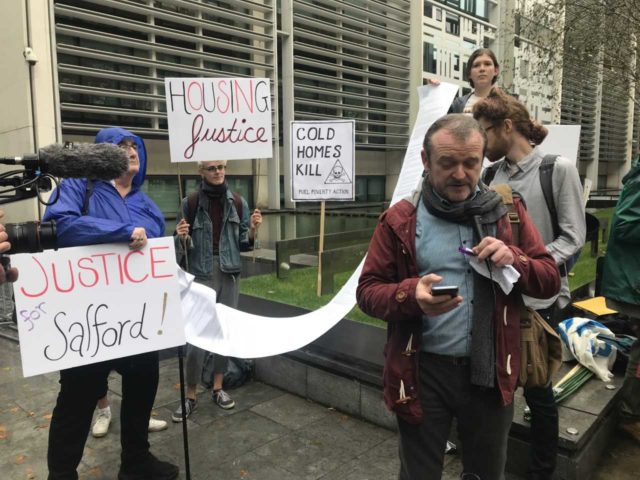 Some 62% of social housing blocks (99) are currently having their cladding removed and replaced.
In an announcement made while demonstrators gathered outside, the Government said it had started distributing an estimated £400 million to remove and replace unsafe material on social high-rise blocks.
Twelve local authorities and 31 housing associations have been allocated the money, which the Government says will help them to "get on with the job of making their buildings safe without having an impact on other vital services".
The Grenfell Tower blaze broke out on June 14 2017 and claimed 72 lives.
Miriam Binder, from the group Disabled People Against Cuts, said she had fought for years to have an adapted, ground floor flat in Brighton.
She said she battled with the local authority, which offered her flats on the fifth, sixth and eighth floor of blocks.
Speaking from her wheelchair, the 62-year-old told demonstrators: "If you cannot keep your house warm, if you cannot keep your house safe, what is there?
"I'm sorry, I cannot understand why there is such a big issue about safeguarding our people in our homes here in England in 2018, it's absolutely and totally barbaric."
Demonstrators later headed to Parliament for a meeting attended by Grenfell MP Emma Dent Coad.
Mark Norris, who lives in one of the tower blocks in Salford with unsafe cladding, said one of his neighbours had spent £39 on electricity and heating over five days.
He told the meeting: "They are sitting there with blankets on and it's not cold, because the cladding has been removed, therefore they have holes, they can actually look underneath the window sills….obviously they are concerned about the heating.
"They are afraid to put the heating on now, so God knows what we will do if we get a cold winter, because we don't know when there will be the (new) cladding back on."
Beverley Logue, who owns a top floor flat in private blocks in Manchester, said safety concerns were disrupting family life.
She said of one couple: "They no longer feel able to have their grandchildren over to stay at weekends… they are so worried that if anything happens on their watch to their grandchildren they would never be able to forgive themselves."
Mr Brokenshire said: "There is nothing more important than ensuring people are safe in their homes and that is why I am pleased the £400 million funding has started to be released.
"We are doing the right thing by residents and fully funding the replacement of unsafe ACM cladding in social housing buildings 18 metres or above.
"In the private sector, I want to see landlords protect leaseholders from these costs. I am pleased that a number have stepped forward to do so, including Barratt Developments, Legal & General, Taylor Wimpey, Mace and Peabody. However, there are some who are not engaging in this process. If they don't, I have ruled nothing out."