Testing of a £500 million new train fleet has damaged overhead electric wires, causing severe disruption at one of the UK's busiest railway stations.
London Paddington, which serves around 100,000 passengers each day, was deserted for much of Wednesday after services on many key routes were suspended.
Trains were unable to run between the capital and Slough or Heathrow Airport after 500 metres of overhead power cables suffered extensive damage at Ealing at around 10pm on Tuesday.
This affected Great Western Railway (GWR), Heathrow Express and TfL Rail services.
Network Rail, the Government-owned company responsible for managing Britain's rail infrastructure, said "a minimal service will be in place for the rest of today between London Paddington and Reading and Heathrow".
The damage was caused by a high-speed Class 802 Hitachi train which was being tested between London and Bristol ahead of its handover to GWR.
A Hitachi spokesman said: "After years of successful testing on the route, we are taking today very seriously. A full and thorough investigation is taking place to identify the cause."
Investigations of this kind usually take between 24 and 48 hours.
Class 802 trains are bi-mode, meaning they can operate on electric and diesel power.
They take electricity from overhead wires using pantographs mounted on their roofs.
GWR is investing £500 million in a fleet of 36 Class 802s from Hitachi – part of an overall order of 93 from the Class 800 Series which are replacing the operator's high-speed rolling stock by the end of next year.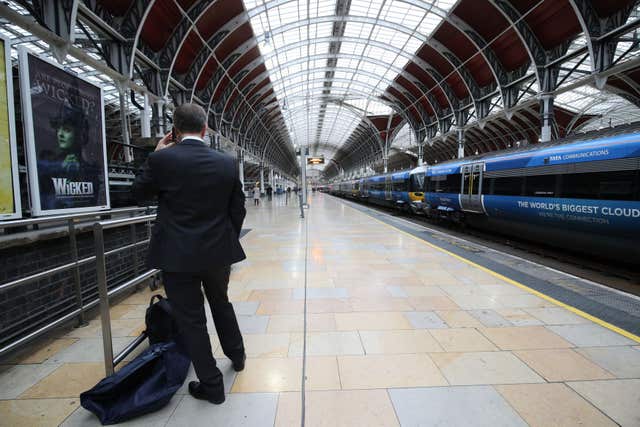 Following the damage in Ealing, GWR advised passengers that they could use their ticket on alternative routes, travel on Thursday or claim a refund.
Travellers trying to get to Heathrow were told to take the much slower Piccadilly Tube line to the airport or a bus replacement service.
Delays on the Central, Circle, District, Hammersmith and City, Jubilee and Metropolitan London Underground lines compounded difficulties for passengers trying to get across the city after arriving at alternative rail hubs.
Some people were looking on the bright side – three employees at a pharmaceutical company in Slough said they had been told they could work from home for the day.
One joked: "It's not so bad for us."