The Duke and Duchess of Sussex kept the crowds waiting – but were met with a rapturous reception as they arrived in Melbourne for day three of their royal tour in Australia.
Locals waited from as early as 5am in a bid to catch a glimpse of Harry and Meghan as they headed to Victoria as part of their 16-day tour, which will also take in New Zealand, Fiji, and Tonga.
Harry and Meghan, who was wearing a navy blue dress by Australian brand Dion Lee with a camel-coloured trench coat and black stilettos, were met by a crowd nearing 5,000 and abandoned their strict scheduling to meet royal fans for 25 minutes.
Gifts, including toys, flags and flowers, were given to the parents-to-be as a group began to sing Stand By Me, the gospel song performed at the royal wedding in May.
One of the larger presents of the day came from Courtney Pistone, 10, who held a large teddy over the barriers and handed it to Meghan for the unborn baby.
She said: "I gave it to her for the nursery.
"I thought it would be suitable because we didn't know if it was a boy or a girl and both boys and girls like bears."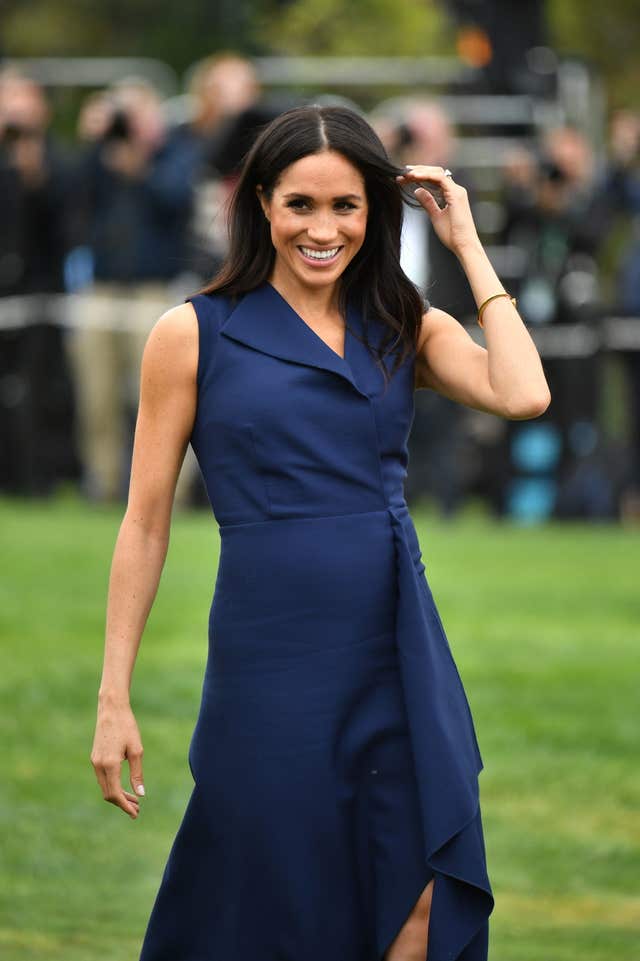 The 28-year-old said: "As soon as I introduced my daughter to Harry, he said 'that's a great name'.
"Maybe they will choose it for their own child, which would be fun.
"Meghan was right behind him and was playfully tickling her toes and said how sweet it was that I'd brought her out today."
One woman, 19-year-old India Brown, held a sign saying "Been here since 4am, loved you since I was 8" and was visibly emotional when Harry gave her a hug.
Other signs including "Worth the detention" and "Fresh Prince with red hair" were held aloft to the royal party, who made their way through the Royal Botanic Gardens to Government House.
Among those who did not make their way to school was Rhys Pratt, eight, who begged his mother Naomi to take the day off.
He said: "I wanted to come here so badly but my mum said I had to go to school.
"My dad is from Yorkshire in England and I really love Harry and Meghan, so after I promised to make a flag to give to them, my mum said she would take me."
Harry complimented the flag, saying it was "cool", and thanked Rhys for coming to meet him.
Harry and Meghan then went on to the city's Government House, where they were presented with a display of 150 women showcasing a number of activities, including netball, yoga, boxercise, cricket, cycling and Zumba.
Meghan appeared to enjoy the fitness display and was even convinced to throw an Australian Football League game ball.
"I'm not sure I will be good," she nervously laughed as she delicately threw the ball to one of the women. "I'm not sure I did it right!", she added.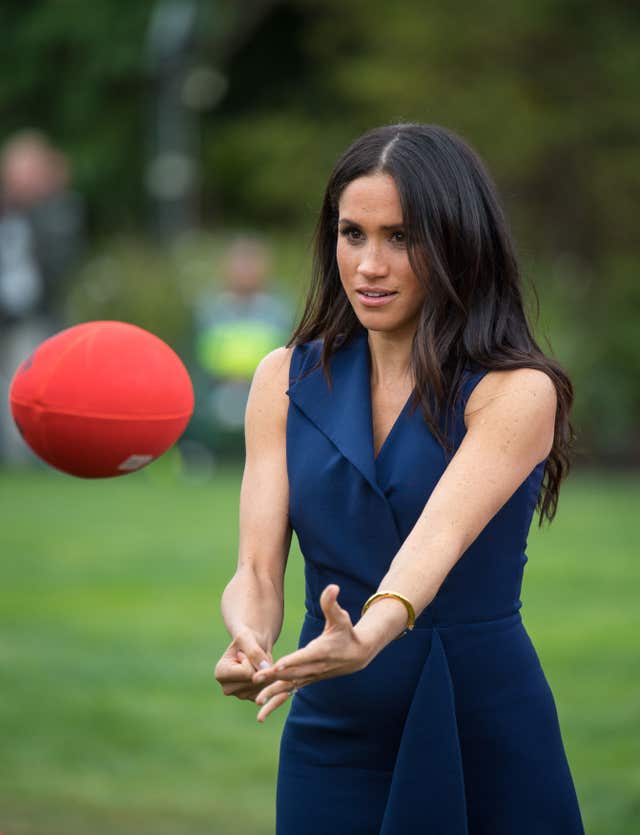 "She had not seen an AFL football before Howard, the governor's husband, explained to her what it was like – the weight of it is a little bit different, and that you handball it, you don't pass it."
The duke and duchess went on to be given a taste of Australia as they had lunch at Charcoal Lane, a social enterprise restaurant in Melbourne's trendy Fitzroy suburb.
At a private meal, the royal couple enjoyed a shared entree of mushroom and quinoa nest and chargrilled kangaroo and main courses of wild boar, saffron risotto and barramundi.
It was prepared by young chefs being trained by the Mission Australia programme, which assists young indigenous Australians into employment, in many cases giving them a fresh start in life.