A teenager is facing a "substantial sentence" after he was found guilty of deliberately running over two young women repeatedly in his car.
McCauley Cox, 19, drove into a crowd of nightclub revellers after a fight broke out in the street, mounting a kerb and driving over his two victims, leaving them with serious injuries.
A jury took 90 minutes to unanimously find the young driver guilty of two counts of causing grievous bodily harm with intent after a four-day trial.
Newport Crown Court heard Cox was previously convicted after leading police on a high-speed chase on the M4 and crashed through a barrier on the Severn Bridge.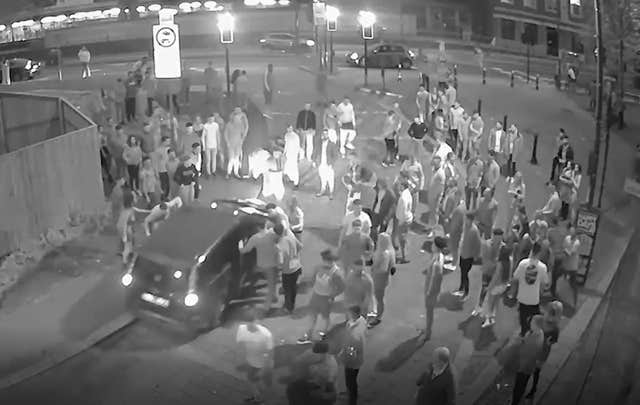 CCTV used in the trial shows Cox's car approaching a crowd of pedestrians outside the Courtyard nightclub on Cambrian Road, Newport, as some begin fighting in the early hours of April 29.
The car clips one of the pedestrians, leading some to kick the Ford C-Max people carrier and confront Cox at either side of his vehicle.
Moments later, the car darts forward and turns on to the pavement towards a group of people, including victims Sophie Poole and Emma Nicholls, who are sitting on a kerb.
Cox runs over the two girls before reversing back over them, then darting forward once more over their bodies and reversing further down the street.
Witnesses begin to attack his car and smash its windscreen, prompting Cox to accelerate out of the road at speed, missing other pedestrians by inches.
Prosecutor James Wilson accused Cox of using his vehicle to deliberately run over a man who was trading blows with his friend, only to miss and repeatedly run over the two young women, who are in their early twenties.
Mr Wilson said: "You were using the car as a weapon.
"You know full well the reason you went for that man is because he was confronting a friend of yours.
"You deliberately drove that car at that man with intent to cause him very serious harm.
"And you are responsible for those girls' injuries because of your anger and annoyance at that man who was confronting your friend."
Witness Nathan Rumble said Cox hit the two girls like a "speed bump", and said it appeared the driver intentionally drove his car into the crowd.
Mr Rumble said: "It was wrong. He was going for them.
"You can't just hit someone twice and not know what you are doing."
The two girls, who are friends from university, suffered "really serious injuries" after being repeatedly run over, with Miss Poole needing specialist skin grafts and Miss Nicholls suffering a lacerated spleen.
Cox, from John Ireland Close, Newport, was remanded in custody.
After the verdict, Kelly Huggins of the CPS, said: "McCauley Cox used his vehicle as a weapon and caused an incident which left his victims with serious injuries.
"The CPS showed in court that his actions in driving his car into the crowd and reversing over those injured on two occasions amounted to this serious offence.
"Evidence included CCTV footage showing the incident and its aftermath where Cox showed no regard for those he had injured.
"Our thoughts are with the victims as they recover from their injuries."