An Aberdeenshire farmer has spoken of his devastation after one of his cows was found to have BSE.
Thomas Jackson said he had taken pride in doing everything correctly and it was "heartbreaking" to be told the dead animal had so-called mad cow disease after routine testing.
A movement ban has been put in place at the farm in the Huntly area as investigators try to determine its source.
Officials have stressed there is no risk to public health, and the case shows the surveillance system is working effectively.
Mr Jackson said in a statement issued through the National Farmers Union in Scotland: "This has been a very difficult time for myself and my wife and we have found the situation personally devastating.
"We have built up our closed herd over many years and have always taken great pride in doing all the correct things. To find through the surveillance system in place that one of our cows has BSE has been heartbreaking.
"Since this has happened we have been fully cooperating with all the parties involved and will continue to do so as we like everyone want to move forward and clear up this matter."
The farmer said several other cows will be slaughtered and tested for BSE, known in full as Bovine Spongiform Encephalopathy, as a precaution.
Scotland's chief veterinary officer said she believes the disease was not transmitted, and occurred spontaneously in the affected animal.
But she warned it could be several months before investigators can say for certain.
Sheila Voas told BBC Scotland's Good Morning Scotland radio programme: "All the information we have is this is under control, there's no reason for people to panic.
"It's not the start of an outbreak, it's a single isolated case that won't affect the food chain."
Millions of cattle were culled in the UK in the 1990s during a BSE epidemic.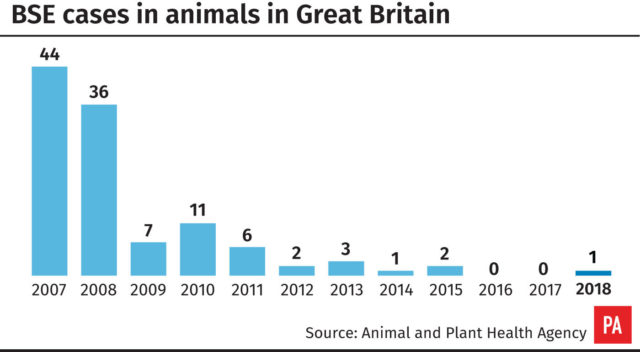 Prior to the discovery of the latest case Scotland had been BSE free since 2009, earning it 'negligible risk' status along with Northern Ireland.
Now it will re-join England and Wales in having "controlled risk" status. The last recorded case of BSE in the UK was in Wales in 2015.