Mothers of two murdered young women returned to court to ensure their killers "do the time" after a bid to identify a secret witness in their original trial failed.
Charlene Ellis, 18, and her friend Letisha Shakespeare, 17, were shot dead in Aston, Birmingham, on January 2 2003 during a botched gang revenge attack.
The young women were hit by sub-machine gun fire in a drive-by shooting outside a hair salon where they had been at a party.
Following a trial in 2005, Marcus Ellis, Rodrigo Simms and two other men were found guilty of the murders and handed life sentences.

In another first, lawyers for Ellis and Simms applied to Mr Justice Goldring to lift the anonymity order, after failing in the Court of Appeal.
Tim Moloney QC had argued there had been "a material change in circumstances" since the end of the trial.
He claimed significant pieces of evidence should have been disclosed by the prosecution and there was a failure to sufficiently investigate Mr Brown.
But in a ruling at the Old Bailey, the senior judge rejected Mr Moloney's argument.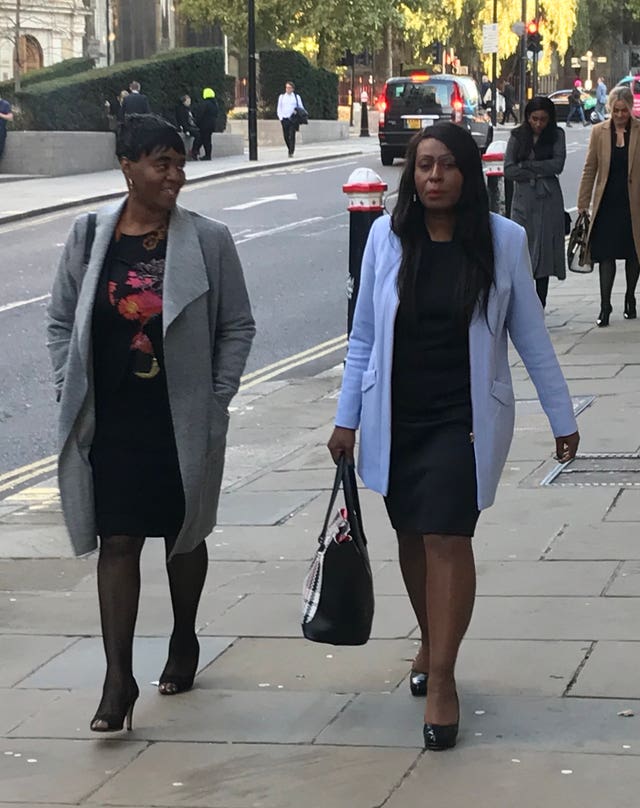 "I have concluded there has been no material change or circumstances since the end of the trial.
"I have further concluded therefore in those circumstances nothing of substance has changed since the Court of Appeal's careful investigation into the fairness of the trial."
Ellis had appeared in court via video link from Whitemoor prison in Cambridgeshire, while Simms sat in the dock.
The victims' mothers Marcia Shakespeare and Bev Thomas had travelled to London for the hearing.
Family members exclaimed "good" and thanked the judge for ruling against the defendants.
There were shouts of "do your time" at Simms in the dock at the end of the short hearing.
Outside court, Ms Shakespeare said: "My reaction when they were sentenced was justice had been served."
She said the prosecution case was won on other evidence besides the secret witness, including telephones and DNA.
She said: "Although this case has been won today I'm still totally aware of the possibility of them trying to appeal again.
"I will continue to come and fight for Letisha and Charlene who lost their lives through no fault of their own. By going out enjoying themselves, they were murdered."
Had the judge lifted Mr Brown's anonymity, it would have "opened a can of worms", she added.
Ms Shakespeare said it was "distressing" for the families to come back to court, adding: "Once you have committed a crime you should do the time."