The Duke of Sussex joked that being skilled at unveiling plaques "runs in the family" as he dedicated the Forests of K'Gari to the Queen's Commonwealth Canopy.
Harry, without pregnant wife Meghan, was greeted by the Butchulla People and took part in a traditional Welcome to Country smoking ceremony on Fraser Island, which has the traditional name K'Gari.
Aaron Henderson and Darren Blake wafted smoke from a bucket of burning paper bark and blue gum leaves towards him, while songman Fred Bulanyu Leone called out to their ancestors and tapped out a rhythm with a pair of bar gan – "killer boomerangs" – traditionally used for hunting.
Butchulla land and sea ranger Conway Burns explained: "When we die, we go through an initiation.
"Our spirit goes through our body and through our sacred lakes and up to the sky. It returns to our people in these trees.
"It's great to be standing here, where our people stood hundreds of years ago."
Before Harry began speaking at the QCC unveiling, local Marilyn Clarke called out: "You are better looking in person!" – to which he replied: "I will take that as a compliment."
He said: "This is actually the second time this plaque has been unveiled which I know is highly unusual.
"The first time was by my father the Prince of Wales in Bundaberg earlier this year when he was visiting.
"I know that my father came to K'Gari in 1994 for a day off during a royal tour so he has an appreciation of the importance of this place.
"Luckily we are both highly skilled when it comes to unveiling plaques… It runs in the family."
The joke echoes one made by Harry's grandfather, the Duke of Edinburgh, who opened a new stand at Lord's Cricket Ground in 2017 with the quip: "You're about to see the world's most experienced plaque-unveiler".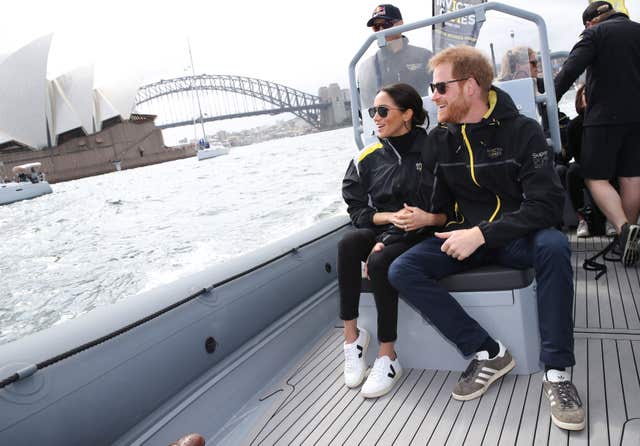 Harry said: "Forty-two out of the 53 countries are now taking part and I hope that others will join soon.
"The programme is committed to raising awareness of the value of indigenous forests and to saving them for future generations.
"Put simply, without trees and forests, we don't survive. It is a symbiotic relationship, and one that so many people still fail to realise."
The Duke then watched a dance by children of the Butchulla people and shook hands with all of the children before heading to Lake McKenzie for further engagements.