A Bill aiming to modernise abortion law is unlikely to win the Government support it needs to become law, Downing Street has indicated.
Labour MP Diana Johnson won support for her Abortion Bill by a majority of 85 MPs, including Conservative ministers.
But Downing Street indicated that the Bill would not be given the Government support it would need to have any realistic chance of becoming law.
Theresa May's official spokesman said: "It is a Private Member's Bill and which will proceed in the usual Private Member's Bill way."
He added: "The Prime Minister has consistently said that abortion has always been a devolved matter for the Northern Ireland Executive and the best way forward is that this issue should be decided by locally accountable politicians in the Northern Ireland Assembly."
Earlier Ms Johnson had given examples of the circumstances women in Northern Ireland are being forced into because they do not have the right to a legal abortion.
These included women left bloodied and battered by abusive partners or being forced to carry foetuses who will die in the womb to term.
The Hull North MP stressed how Northern Ireland's 157-year-old laws are "one of the harshest abortion regimes in the world", without recourse to abortion even in cases of rape, incest or fatal foetal abnormality.
Her Abortion Bill faced opposition from Tory MP Fiona Bruce (Congleton) but was introduced to the Commons for potential further debate after MPs supported it by 208 votes to 123 – a majority of 85.
Introducing the Bill, former minister Ms Johnson told of how one Northern Irish woman spent Christmas Day in casualty with her two children after her husband beat her and repeatedly raped her.
Ms Johnson spoke the woman's words, with MPs hearing: "I could not continue with the pregnancy knowing my husband would carry out his threats to kill me if he found out.
"I went to my GP who told me abortion was illegal in Northern Ireland and refused to help."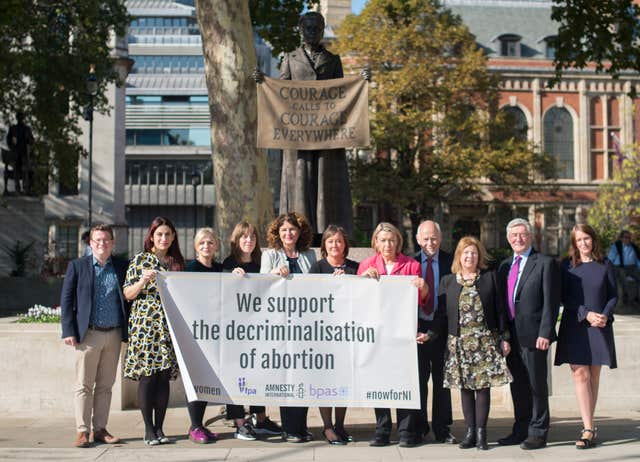 The mother sought support from her GP, the MP said, but instead found herself facing prison for helping her daughter.
Ms Johnson gave two more cases of women forced to carry foetuses who would not survive due to health conditions but had to give birth to a stillborn daughter and a baby too weak to survive.
She said: "Every minute of every day you have to live with the knowledge the child inside you is going to die."
Northern Ireland is still ruled by an 1861 Act threatening anyone performing abortions with life imprisonment, which was ruled as a breach of human rights by the Supreme Court this summer.
The ruling followed a landslide referendum vote to legalise abortion in the Republic of Ireland, which Ms Johnson said means now is the right time to act.
Ms Johnson wants to remove the section of the 1861 Act that criminalises abortion and bring in her own, modernised Act in England and Wales, hoping Northern Ireland will consider following suit.
She also wants to make it a criminal offence for someone to force a non-consensual abortion "such as someone who is violent towards a pregnant woman or puts tablets in someone's drink", punishable by life imprisonment.
Opposing the Bill, Ms Bruce said MPs should vote against the motion if they respect devolution – warning it would "set a dangerous constitutional precedent of interference".
The MP for Congleton said: "Whatever members' differing views on abortion, if we respect devolution we should vote against this motion today.
"It proposes far-reaching changes in abortion law not only for England and Wales but also for Northern Ireland, where abortion has been respected as a devolved matter since 1921.
"Indeed it would set a dangerous constitutional precedent of interference and it's not only unconstitutional, it's untimely.
"At such a sensitive time in relations between the Westminster Government and the Northern Ireland administration, it would completely undermine the substance and spirit of the Good Friday Agreement."
She said the motion was contrary to Government policy and should be voted down.
Ms Bruce added: "It seeks to permit a woman up to 24 weeks pregnant to obtain an abortion for any or no reason at all.
"Abortion on demand up to five months in pregnancy – we already have some of the most extreme abortion laws in the world, this would make them even more so and there is no public call or appetite for this whatsoever, indeed the opposite, there is clearly very grave public concern.
"The fact is if her proposals go through, sex-selective abortion will not be illegal in this country up to 24 weeks.
"Do we want to go the way of Canada, now described as a haven for parents who would terminate female foetuses in favour of having sons?"
She concluded: "This Bill is out of step with scientific progress and public opinion.
"It is unconstitutional, it is legally incoherent, it is untimely and it is unwanted."
The Bill was listed for a second reading on November 23 but is unlikely to become law in its current form without Government support or sufficient parliamentary time.