A digger driver who unearthed a woolly mammoth tusk while working on a road improvement project described it as a "once in a lifetime" find.
Darren Hickman, 48, of Pontefract in West Yorkshire, was operating a 20-tonne digger when he made the discovery during work to upgrade a 21-mile stretch of the A14 between Cambridge and Huntingdon.
Archaeologists said bones from one woolly mammoth and four woolly rhinos have been found at a quarry in Fenstanton, by what was once an ancient river, and there could be more.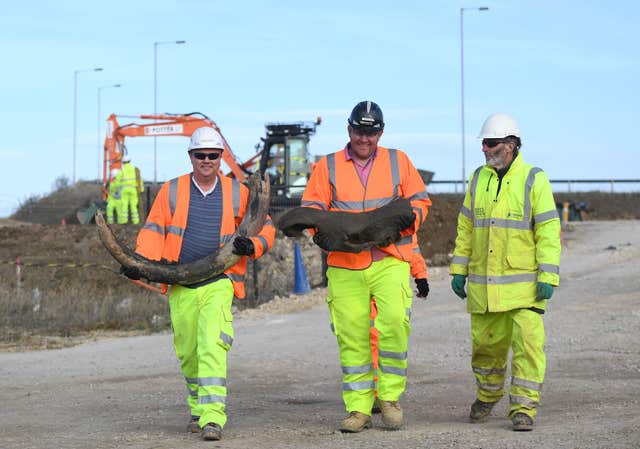 "I was excavating gravel.
"I did a trial load into the base clay level and that's where I found the first mammoth tusk and the ice age bones."
He said that at first he did not realise what he had found.
He added: "It looked like a tree root or a tree branch.
"At the depth we were working at, maybe five or six metres, I thought it's a bit strange to have that sort of thing down at this level.
"It's like a once in a lifetime I should think that you'll find anything like that, so it's pretty rare. It's a pretty good feeling."
Steve Sherlock, archaeology lead for the A14 project, said large bones such as the skull and legs have been found.
The remains are fragmentary, he said, and are still being analysed, with the most recent find made last week.
"We believe from the deposits that they've come from that they're about 100,000 years old," he said.
Further work is ongoing to determine gender and to more precisely date the finds, and to establish their size.
He said the woolly rhino could be between three and four metres high.
"We know they can weigh up to two tonnes and males can be slightly heavier than the females," he said, adding that the species grazed on grasses and low-lying shrubs.
There is potential for more bones to be found and machine operators are looking for them, he said.
Some of the bones are of museum quality for display and "worthy of people being able to come along and see them", added Mr Sherlock.
Workers on the A14 project have already uncovered an abandoned medieval village, a Roman trade distribution centre and several prehistoric burial grounds.