Former English Defence League leader Tommy Robinson claimed he had "already won" as he addressed a crowd of supporters ahead of his contempt of court case.
Fans chanted "Oh Tommy Tommy" and blasted klaxons outside the Old Bailey as he walked into court.
The defendant – real name Stephen Yaxley-Lennon – faces a day-long hearing before Judge Nicholas Hilliard QC in London's historic central criminal court.
The 35-year-old was freed from prison in August after three leading judges quashed a contempt of court finding made at Leeds Crown Court.
But he could be sent back to jail if he is again found in contempt for filming people in a criminal trial in Leeds and broadcasting the footage on social media.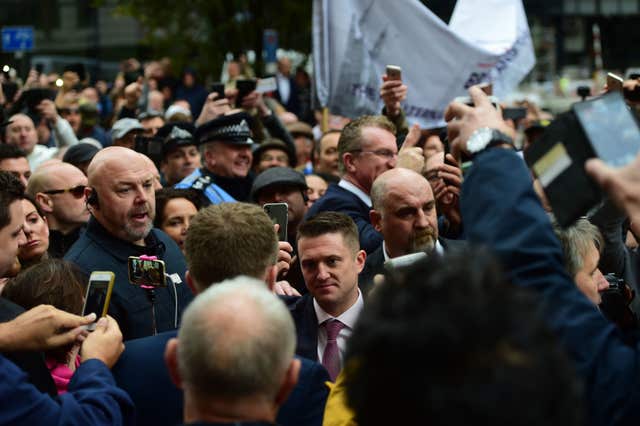 "We want Tommy out," they shouted, as supporters filmed him on their phones.
They patted the suited EDL founder on the back and expressed their gratitude.
Robinson told crowds he had scored a victory regardless of whether he is sent back to jail.
"No matter what happens today, I've already won," he said.
"Their attempts to silence and stop people having the knowledge of the Muslim rape gangs that are terrorising our nation.
"The entire world is now watching."
The media is "the enemy of the people", he yelled, eliciting the crowd to respond: "Shame on you."
Metropolitan Police and their colleagues from the City of London manned barricades outside court for the rally.
England and Union flags, as well those for Ukip, were flying as dozens of protesters gathered.
Under the watchful gaze of officers, the largely male crowd chanted "oh Tommy Robinson", while some got in an early can of Stella Artois before the hearing.
"I've learned so many things in the last two years, such as the killings of anyone that's not of the Islamic faith."
A passing cyclist said: "Fascist."
A small group of anti-fascism campaigners faced Robinson fans before the hearing.
Last month, Robinson was ushered into court amid similar scenes outside.
Following the brief hearing on September 27, a video appearing to show Robinson at a window within the court building was posted on the Twitter account of Ezra Levant, a reporter for the right-wing Rebel Media organisation.
The video is believed to have been made in the canteen on the Old Bailey's second floor. By the afternoon, it had been viewed more than 160,000 times.
Section 41 of the Criminal Justice Act 1925 (CJA 1925) makes it an offence to photograph people within
court precincts.
City of London had confirmed they were looking into whether any offences were committed at September court appearance.