The Duke of Sussex laid a wreath of poppies in honour of Fijian war veterans in a solemn ceremony in the country's capital.
Harry, without Meghan for the first engagement of the day, wore the tropical dress of his Blues and Royals regiment and his medals.
He stepped out under cloudy skies in Suva before taking the salute at the National War Memorial Grounds.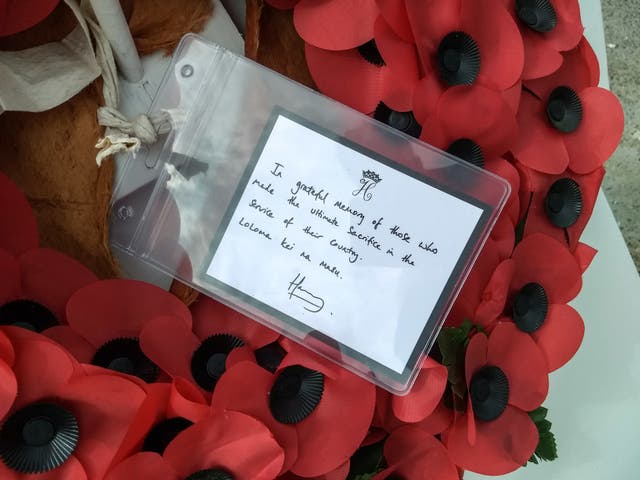 "Loloma kei na masu (Love and prayers)."
He then went to talk to Fijian war veterans, including a number who had served with the British Armed Forces.
Meeting Maleli Naigulevu, from Koro Island, Harry asked: "Hello, how old are you?"
When Mr Naigulevu, a former pathologist in the medical corps told him, the duke said: "84! Still looking very young!"
Afterwards, Mr Naigulevu said: "It was very nice to meet Prince Harry today.
"He is a very good role model for us all.
"The British Royal family are very popular here as Fiji was ceded to Great Britain and they taught us good things."
Taniela Vakalaca, 12, was in the line wearing medals belonging to his father who died in Kenya two years ago.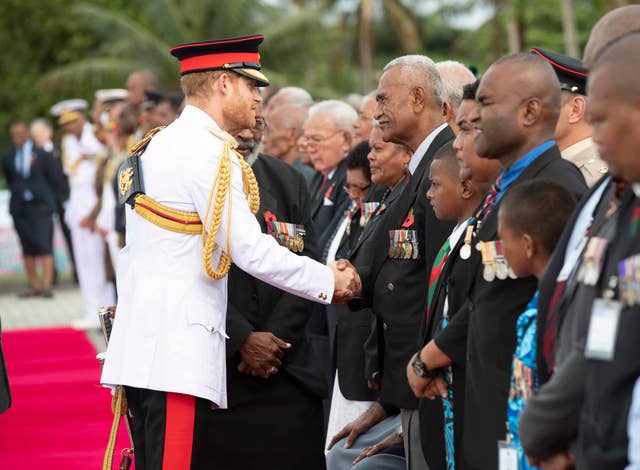 "Are you going to join the army? You don't have to, only if you want to!"
Harry then spotted a familiar face in the crowd – Derek Detenalagi, whom he met at the first Invictus Games in London in 2014.
He and his wife Ana, whose family are from Fiji, flew over for the royal visit and were invited to Tuesday night's state dinner.
Harry said: "Late night last night? Look after yourselves!"
Afterwards, Mrs Detenalagi said: "We weren't on the list this morning for this wreath-laying but his PA Clara told us to be here this morning.
"We were at the reception last night which was fun.
"We were very honoured as he gave us each a hug."
The duke spoke of his admiration for the Fijian service personnel at the black tie dinner hosted by the president on Tuesday night.
In his speech, he said: "Your soldiers fought with the British Armed Forces during the First and Second World Wars and continue to serve alongside our soldiers to this day, with more than 1,250 Fijians currently serving.
"I must emphasise my respect, admiration and camaraderie with the Fijian soldiers that I served with in Afghanistan.
"We trained together, we fought together, and most importantly we laughed together."