With less than 160 days to go to Brexit, Theresa May has ordered weekly updates for her senior ministers on preparations for EU withdrawal either with or without a deal.
The updates will be delivered at the regular Cabinet meeting by Brexit Secretary Dominic Raab, who told ministers on Tuesday that "good progress" was being made on preparing for both possibilities.
The meeting came as the Prime Minister faced increasing pressure for a breakthrough in talks with the EU, after last week's summit ended with no deal.
Mrs May told MPs on Monday that the terms of Britain's withdrawal from the EU were 95% agreed but the "sticking point" remained the issue of the Irish border.
However, she came under fire from critics on all sides in the Commons after she confirmed that she could accept a short extension to the transition period after the UK leaves in order to secure a final settlement.
The PM told Tuesday's Cabinet meeting in 10 Downing Street that preparations for the no-deal scenario continue to be "essential", but stressed that the Government's priority is to secure a deal.
The Government was working "intensively" to find a way forward on the issue of the backstop which the EU is demanding to keep the Irish border open, she said.
Irish broadcaster RTE reported that the EU is ready to agree the UK-wide backstop proposed by Mrs May, but only as part of a separate treaty following a withdrawal agreement including a backstop applying to Northern Ireland only.
But Mrs May's official spokesman said: "The prospect of Northern Ireland being placed in a different customs arrangement to the rest of the UK is unacceptable."
Irish premier Leo Varadkar has said he has "every confidence" that the UK Government will not want to move away from its commitments to the backstop agreement.
"From our point of view, what Ireland is looking for is what we have always been looking for from day one and what has been committed to by us and the UK Government in principle and in writing on a number of occasions now," said Mr Varadkar.
"That is, we have a backstop that gives us an assurance that there will be no hard border on the island of Ireland no matter what happens, that that backstop is legally operable and that applies unless and until there is a new agreement.
"That is something that the UK Government has committed to in principle, committed to in writing, and I have every confidence that the UK Government will honour that commitment.
"Britain is an important country, a serious country, a great country with great history. I don't think they will want to be moving away from their commitment."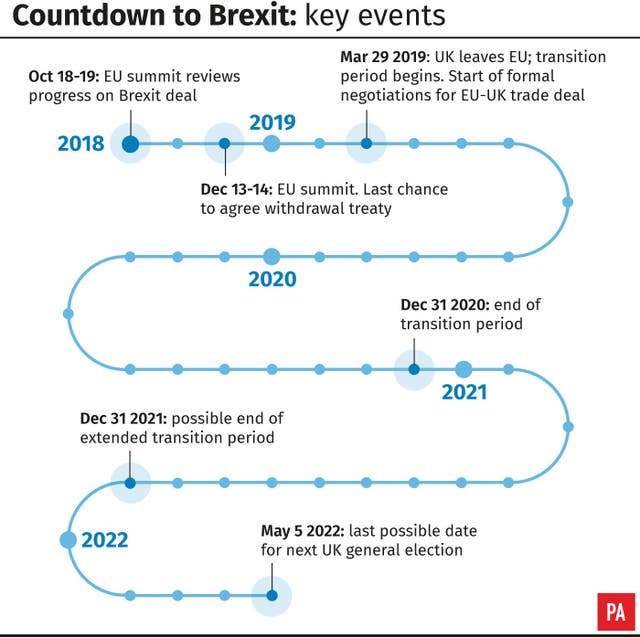 The latest display of backbench unrest came amid reports that the number of Conservative MPs submitting letters calling for Mrs May's removal was approaching the 48 needed to trigger a no-confidence vote in her leadership.
However, there were signs that a series of lurid briefings over the weekend by unnamed backbenchers calling for her to be "knifed" and advising her to "bring her own noose" had backfired, causing MPs to rally behind her.
Andrew Mitchell – an ally of former Brexit secretary David Davis who is seen as a possible leadership contender – said a leadership challenge would be a "mistake".
"I think it is right to give the Prime Minister every support to conclude a deal," he told BBC Two's Newsnight.
However, he warned that Mrs May could struggle to get the support of the House of Commons for any agreement she brings back from Brussels.
"There is a danger tonight, it seems to me, that Parliament won't accept that deal or any other deal. That will be a serious problem," he said.