Ireland's premier has said that while there is "understandable public concern" around President Michael D Higgins using the government's private jet to fly to Belfast, the additional cost is "very small".
Taoiseach Leo Varadkar said the decision to use the private plane is often made to save time to allow the President or a government minister to carry out other functions.
Mr Higgins was criticised after he travelled by jet to Belfast in May this year, claiming that security concerns meant he had to use the Government plane and a State car.
The Police Service of Northern Ireland issued a statement which appeared to challenge Mr Higgins' claim that they were not able to pick him up at the Irish border.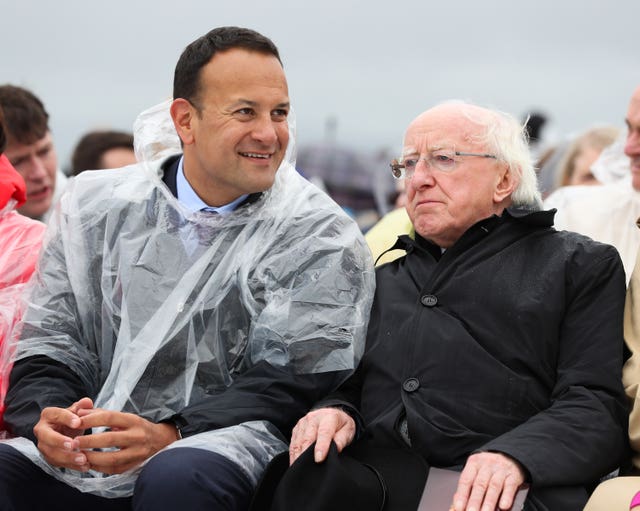 "On occasion it's used for travel to Belfast or Derry and that can be done for different reasons. It's often done to save time.
"It may save two hours on a Belfast trip and four hours on a Derry trip and that's not a case of getting home earlier, it's a case of being able to fit in more functions very often.
"I know there is understandable public concern around the cost of using something like a jet, but bear in mind the plane is owned by the government, the pilots are paid anyway."
The Fine Gael leader was speaking as he and other cabinet ministers were canvassing early morning commuters in Dublin city centre ahead of Friday's Presidential vote.
He was joined by Minister of Finance Paschal Donohoe, Housing Minister Eoghan Murphy, Employment Minister Regina Doherty and Culture Minister Josepha Madigan in support of Mr Higgins.
Mr Varadkar added that during the recession the jet was flown around empty because pilots had to keep up a certain amount of flying hours.
"The added cost is actually very small and there is obviously security costs associated with going by land as well," Mr Varadkar added.
He said that use of the private plane is "not policed" by his department, adding that it "it is owned by the people".
"The protocol is that if he requests it and it's available it's granted to him," he continued.
"Being able to use the government jet for a visit, perhaps to Northern Ireland, but certainly overseas can perhaps save two or three hours that allows the President or minister to do additional functions that they wouldn't otherwise be able to fit in and allows for briefings on the plane which couldn't be done in the same way on a plane where there are lots of other people on it too."
The Taoiseach also said he was happy with how Mr Higgins has accounted for his spending in the Aras an Uachtarain.
The Fine Gael ministers took to the streets of Dublin to campaign for a Yes vote in the Blasphemy Referendum also taking place on Friday.
Mr Varadkar said a Yes vote would "further modernise our constitution and ensure that we have a 21st century constitution for a 21st century Republic".