The Duchess of Sussex's visit to a market to meet female entrepreneurs was curtailed due to concerns about security as large crowds turned out to greet her.
Meghan, who is expecting her first baby, was due to spend around 15 minutes meeting vendors who are part of the UN Women's Markets for Change project.
Hundreds of people packed into the square near the Suva Municipal Market and strained for a glimpse or a photo of the 37-year-old over barriers, while others whooped and sang.
A royal aide said the market visit was an extension of an earlier engagement where the duchess heard about the Markets for Change project at a morning tea.
The aide added: "She met everyone she was meant to meet and left.
"On advice she was taken out due to crowd management issues."
Royal sources said there was a "security issue" because of the "much bigger crowds than anticipated" inside the market, making the event "uncomfortably busy".
On a hot and humid day in the Fijian capital, the duchess, wearing a dress by Figue and carrying a woven bag made by women at the market, was greeted by crowds waving flags and cheering.
Shobna Verma, the legal advisor to Suva Market Vendors' Association, presented Meghan with a bouquet of flowers.
Mrs Verma, 58, who sells eggs at the market, said: "The duchess asked me if the programme really is making a difference and I told her there have been a lot of positive changes, but we are still waiting for more."
Asenaca Salusalu was the first vendor to meet the duchess inside the market.
Mrs Salusalu, 50, a farmer from the village of Nukulau, more than 100 kilometres from Suva, has been a stallholder at the market for nine years, selling root crops, vegetables and fruits.
Meghan, who looked slightly flustered during the hurried walk through the market, shook Mrs Salusalu's hand, and said: "It's very good to meet you", before moving on.
Mrs Salusalu said: "She didn't really speak at all, like she was a bit afraid. She just said 'Bula' and 'Nice to meet you'. But I'm happy to have met her."
Inside the market, stallholders and members of the public appeared calm and orderly and there did not appear to be any obvious security risk or problems with the crowds.
"It's such a shame as we were all very excited to meet her," said one stallholder, who had been positioned to expect a visit from the duchess.
"We started preparing for the visit three weeks ago and had been meant to meet her but she left without even saying hello."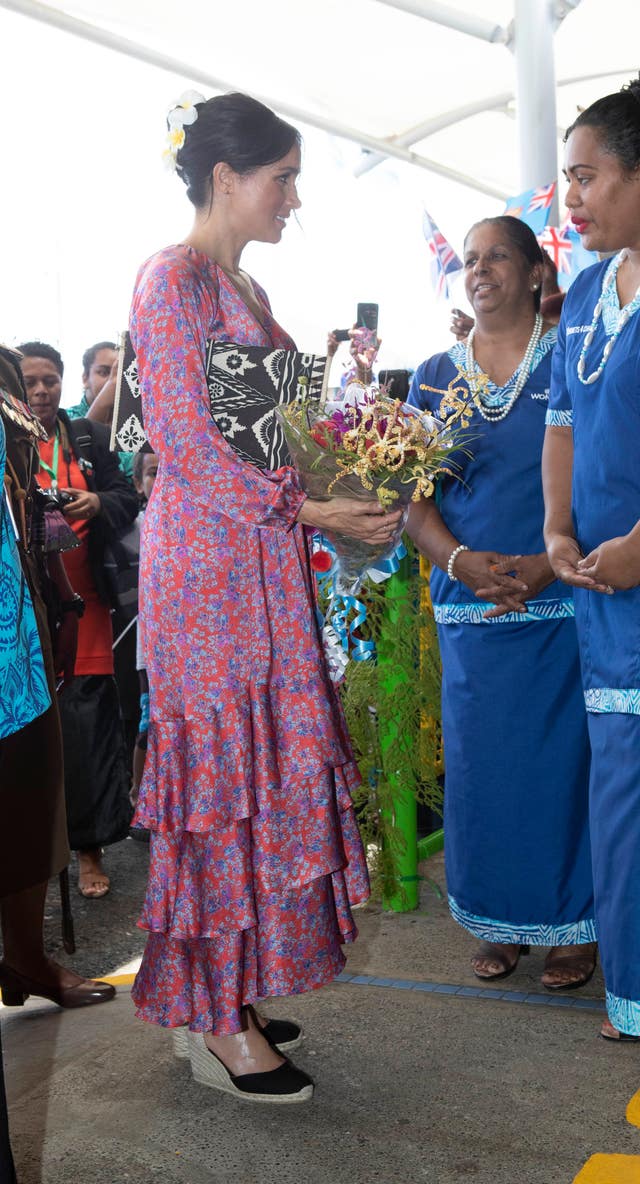 Earlier in the day, the duchess had made her first speech of the tour at the University of the South Pacific in which she spoke of the trouble she had funding her university degree.
Addressing students, she said: "I am also fully aware of the challenges of being able to afford this level of schooling for many people around the world – myself included.
"It was through scholarships, financial aid programmes and work-study where my earnings from a job on campus went directly towards my tuition, that I was able to attend university.
"And, without question, it was worth every effort. Everyone should be afforded the opportunity to receive the education they want, but more importantly the education they have the right to receive.
"And for women and girls in developing countries, this is vital."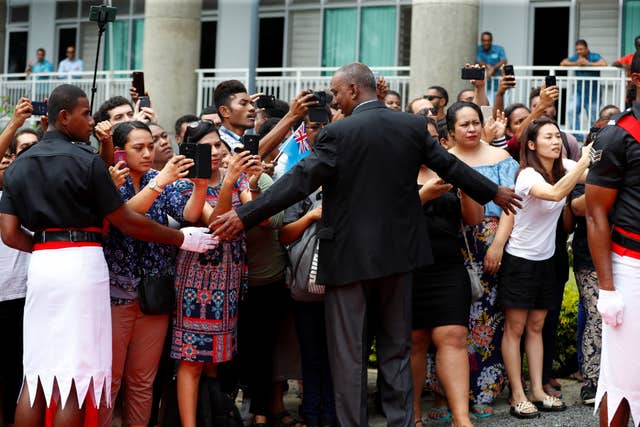 She said: "This means that female faculty members are able to encourage others to follow in their footsteps and enter higher education, and that more women become part of the decision-making process in academic institutions.
"Grants like this ensure that women are provided with the training and skills to operate effectively in their roles, and those with leadership potential are given the opportunity to be heard and recognised at the most senior level."
On Wednesday, the duke laid a wreath at the Suva War Memorial and unveiled a plaque commemorating the designation of Colo-i-Suva to the Queen's Commonwealth Canopy project.
The Sussexes will travel to Nadi, Fiji, on Thursday and then onward to Tonga.