Leading Brexiteer Nigel Farage denounced the UK's negotiation team as "the enemy within" as he warned Britain faces "humiliation" unless Theresa May is removed as Prime Minister.
His comments to the European Parliament came as Mrs May prepares to face Conservative MPs amid growing unrest over her Brexit plans.
The number of Tory MPs publicly committed to oppose her Chequers blueprint for leaving the European Union has now reached 50.
The Prime Minister will meet critics at the backbench 1922 Committee in Parliament just days after one anonymous opponent suggested she should "bring her own noose" to the gathering.
The meeting follows fresh revelations about the Government's plans for a no-deal Brexit, with alternative measures to secure supplies of food and medicines from the continent being investigated in case of chaos on the English Channel crossing.
In developments that will cause further unease among Tory Brexiteers, leaked Cabinet papers obtained by The Times indicated the transition period during which the UK will remain tied to Brussels could turn into a "long-running" arrangement lasting years.
But Mrs May firmly rejected reports the Government was willing to agree the European Court of Justice should be the final arbiter in most disputes arising from Brexit.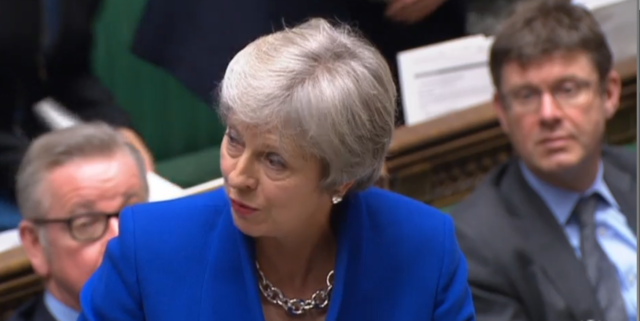 "We have been very clear in the work that we have been doing about ensuring that in the future the European Court of Justice does not have jurisdiction in the UK."
The option of extending the transition period has been put forward as a way of resolving the impasse over the Irish border by giving extra time to find a mechanism to avoid a hard border.
European Council president Donald Tusk told MEPs in Strasbourg that Mrs May had raised the prospect of an extension at last week's Brussels summit.
He added "If the UK decided that such an extension would be helpful to reach a deal, I'm sure that the leaders would be ready to consider it positively."
Mr Tusk also said he was ready to convene a special Brexit summit if negotiator Michel Barnier reported "decisive" progress had been made in talks – but made clear this was not yet the case.
Mr Farage said agreement was being delayed by "a rogue element in these negotiations, a group of people who don't wish to see a solution, who put up a brick wall to stop us breaking free".
He added: "It is not your chief negotiator Michel Barnier, it is actually the British civil service, Olly Robbins' team.
"They signed up years ago to the European dream. They have been happy to take their orders from Brussels, they are now out to sabotage Brexit. They are indeed the enemy within.
"Unless the Conservative Party comes to its senses and gets rid of a leader who clearly is being led by the nose, we will head to the December summit, we will head to a humiliating sell-out and we will head to the UK being trapped in EU rules for many, many years to come."
Confirmation of Mrs May's attendance at the 1922 Committee comes amid speculation the number of Conservative MPs submitting letters calling for her removal is approaching the 48 needed to trigger a no-confidence vote in her leadership.
The scale of opposition her Brexit plans face was made clear as the Stand Up 4 Brexit campaign, which has received high-profile support from former foreign secretary Boris Johnson, said Sir Edward Leigh had become its 50th backer.
Meanwhile, the Government's contingency preparations for a no-deal Brexit were mocked following reports ships may have to be chartered by Whitehall to ensure vital supplies reach the UK.
The Financial Times said Transport Secretary Chris Grayling had discussed the possibility of hiring entire vessels, or securing space in ships, to bring food, medicines and other supplies in through alternative ports.
A Department for Transport spokesman said: "We remain confident of reaching an agreement with the EU, but it is only sensible for government and industry to prepare for a range of scenarios.
"We are continuing to work closely with partners on contingency plans to ensure that trade can continue to move as freely as possible between the UK and Europe."
European Parliament Brexit negotiator Guy Verhofstadt meanwhile urged EU negotiators to offer a right to "unhindered onward movement" for UK nationals living in the EU, allowing them to move home and work between the 27 states in return for a "right of lifelong return" for EU citizens currently in Britain who move away from the country in future.
"I was in Downing Street and they are ready to go for such a trade-off," Mr Verhofstadt told the Parliament.
"If the council were to push for such a solution, it is a trade-off that is possible."