Philip Hammond's last Budget before Brexit and his first since Theresa May declared an end to austerity will be watched even more closely than usual. But what will the Chancellor actually deliver?
So is this the end of austerity after nine years?
Maybe not quite yet. In her conference speech, Mrs May actually promised to loosen the purse-strings after Brexit, in next year's Spending Review. But her words have put massive pressure on Mr Hammond to offer at least a glimmer of light at the end of the tunnel.
Where might he splash out?
Mrs May has already made some of those decisions for him. She has said he will use the Budget to explain how he will pay for the £20 billion boost to NHS spending she has promised by 2023/24. And she also committed him to freezing fuel duties for the ninth year in succession. Meanwhile, dozens of Conservative MPs are calling on him to halt an inflation-linked 3.5% tax rise on beer.
Why is he in a position to increase spending at all?
On many measures, Britain's finances are in better shape than they have been since the 2008 crash. Official figures show Government borrowing below £40 billion in 2017/18, having peaked at £153 billion in 2009. And the national debt has even started to decrease as a share of GDP, though at 84% it remains high by historic standards.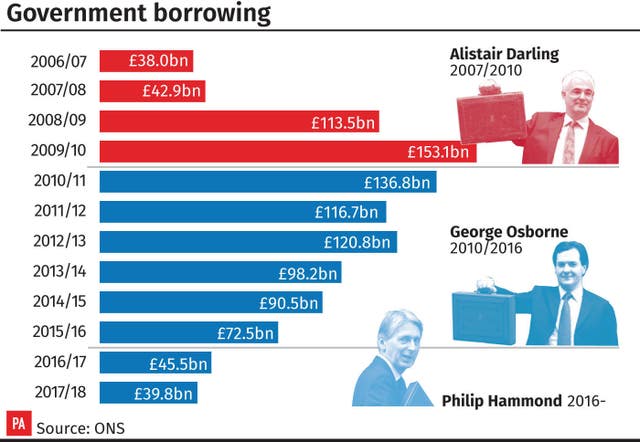 That is anyone's guess. Experts at the Institute for Fiscal Studies calculates that just keeping spending on services in line with inflation, while funding generous rises promised for health, defence and aid, would cost the Chancellor £19 billion. And that would not reverse all the cuts to services like councils, police forces and public sector pay imposed since 2010 in the name of austerity, so many voters may feel little better off.
What about benefits?
Some £7 billion worth of previously announced benefit cuts are still working their way through the system. There is a lot of pressure from Tory backbenchers for more generous funding of Universal Credit, including from the architect of the system Iain Duncan Smith. Reversing cuts to the new benefit imposed by George Osborne in 2015 could cost anything between £2-£5 billion.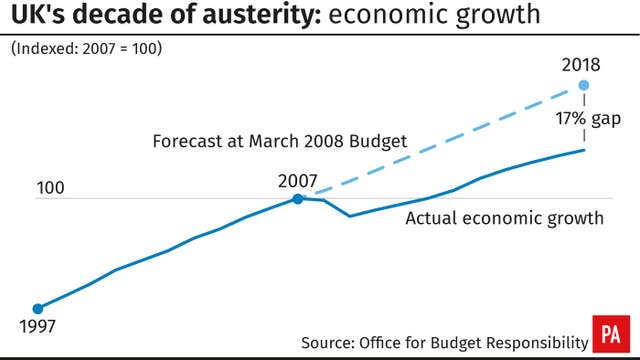 That is the big question. The Chancellor has been leaving the door open for possible tax rises, with speculation revolving around cuts to pension tax relief for high earners. Labour have been calling on him to halt planned cuts to Corporation Tax. But the Office for Budget Responsibility recently handed him £13 billion worth of room to manoeuvre, in the shape of better-than-expected receipts from personal and corporate taxes.
How will Brexit affect the Budget?
The failure to reach a Brexit deal at last week's EU summit means we will probably have to wait and see on this one. Mr Hammond has said he expects a "deal dividend" once agreement is reached, as businesses press ahead with delayed investment and the Government is freed of the need to spend billions on preparations for a no-deal Brexit. Having a deal in his pocket would also give the Chancellor freedom to use some of the £15 billion "headroom" built into the national finances as a buffer against possible disruption. Without a deal, all of this will have to be put on hold.
Hang on, don't these things normally happen on Wednesdays?
They do. This is the first Monday Budget since 1962. The assumption at Westminster is that the Chancellor took a look at the calendar, saw the date would be October 31 and decided not to give newspapers the opportunity to greet a Hallowe'en Budget with headlines about a "Hammond Horrow" or a "Nightmare on Downing Street".