Rail passenger complaints soared during the chaos caused by new timetables, figures show.
Northern and Govia Thameslink Railway (GTR) suffered an increase in the rate of complaints of 63% and 23% respectively between April and June compared with the same period last year, Office of Rail and Road (ORR) data shows.
Both firms had services crippled on many routes when new timetables were introduced on May 20, with the number of daily trains cancelled reaching 470 for GTR and 310 for Northern.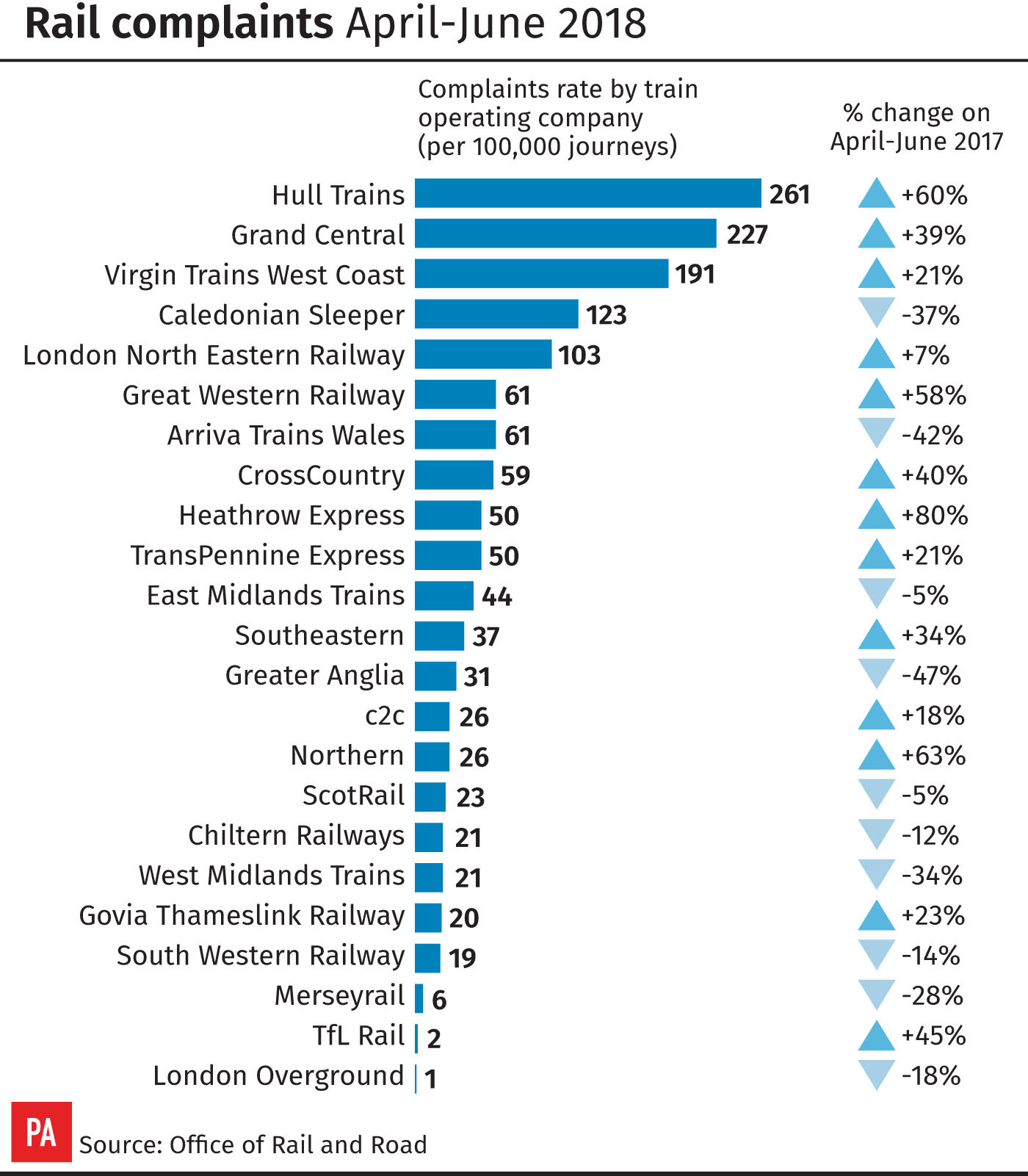 GTR chief executive Charles Horton announced his resignation in the wake of the disruption.
The ORR, which is investigating the chaos, published an interim report last month that warned of a "lack of clarity about roles and responsibilities" and said "nobody took charge".
Northern and GTR were among 13 train operators that had their complaints rate rise between April and June.
Other firms to suffer an increase include CrossCountry (up 40%), Great Western Railway (up 80%) and Heathrow Express (up 60%).
The average rate of complaints across all operators was 29.9% per 100,000 journeys, representing a 6.6% year-on-year increase.
The most common complaint category was punctuality/reliability at 22% of all complaints, up 1.3 percentage points compared with the same period last year.
A GTR spokesman said: "There was an understandable spike in complaints during the disruption after the May timetable change.
"Since then we have put reliability and punctuality back on track, and complaints have fallen steadily month by month to the levels before the timetable change.
"Throughout the busiest weeks our customer services team responded to every single complaint within our target time limit."
A spokesman for Northern said: "During April, May and June, our customers faced unprecedented disruption as a result of delayed infrastructure delivery and the resulting timetable problems which led to an increase in complaints and compensation claims.
"This increase put further pressure on the customer service team, which is now working at full speed to respond to outstanding complaints and clear any remaining backlog."