Topshop owner Sir Philip Green has been named in Parliament as the businessman behind an injunction against the Daily Telegraph.
Former Cabinet minister Lord Hain said he had been contacted by someone "intimately involved" in the case and felt it was his duty to use parliamentary privilege to name the retail tycoon.
Lord Hain's intervention came after Court of Appeal judges temporarily barred the Telegraph from publishing "confidential information" from five employees about a figure the newspaper described as a "leading businessman".
The Labour peer told the House of Lords: "Having been contacted by somebody intimately involved in the case of a powerful businessman using non-disclosure agreements and substantial payments to conceal the truth about serious and repeated sexual harassment, racist abuse and bullying, which is compulsively continuing, I feel it's my duty under parliamentary privilege to name Philip Green as the individual in question given that the media have been subject to an injunction preventing publication of the full details of a story which is clearly in the public interest."
After his statement was made in the chamber and broadcast on parliamentlive.tv, Lord Hain confirmed his statement referred to the Topshop boss.
On Wednesday, Theresa May pledged to hasten measures to improve regulation around so-called gagging clauses in response to questions about the case.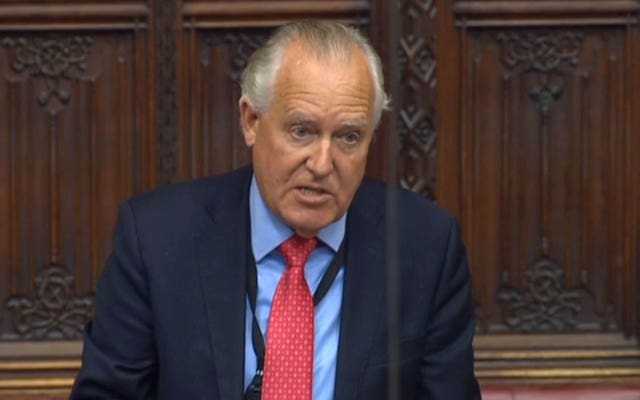 Mrs May's spokesman declined to comment on Lord Hain's statement.
Asked if the PM thought it was acceptable for parliamentarians to use the protection of privilege to put information into the public domain in this way, the spokesman said: "The rules of parliamentary privilege are a matter for Parliament and how they exercise these rules is obviously a matter for individual members."
Liberal Democrat leader Sir Vince Cable said: "He narrowly and luckily escaped losing his knighthood over the pensions scandal.
"If these allegations are correct, he should certainly be stripped of his knighthood."
Labour equalities spokeswoman Dawn Butler said: "While much of the focus in the coming days will be on this man and his alleged actions, let us also pay tribute to survivors of sexual abuse and harassment, who are too often silenced and cannot command an army of lawyers to fight their corner.
"NDAs should never be used to suppress allegations of criminal behaviour. If the current law doesn't protect the voices of survivors, the next Labour government will legislate to do so."
Speaking in the House of Commons on Wednesday, Labour MP Jess Phillips asked Mrs May to comment on the use of NDAs to "silence" accusers, adding: "It seems that our laws allow rich and powerful men to pretty much do whatever they want as long as they can pay to keep it quiet."
The Prime Minister said she would bring forward consultation measures to improve regulation and make it "absolutely explicit" when the contracts cannot be enforced.
The appeal judges ruled it is likely the boss could establish a "substantial" part of the information was obtained through "breach of duty of confidentiality" by those who broke the NDAs or were aware of them.
In August, High Court judge Mr Justice Haddon-Cave refused to gag the newspaper but the executive – identified in court papers as ABC – and managers at the two companies mounted a challenge.
Master of the Rolls Sir Terence Etherton, Lord Justice Underhill and Lord Justice Henderson outlined their decision in a ruling published on Tuesday.
In all five cases complaints had been "compromised by settlement agreements" under which "substantial payments" were made to the employees who had complained, they wrote.
Judges said the claimants felt that information "had been disclosed to the newspaper by one or more of the complainants, or by other employees who were aware of the information and of the non-disclosure agreements".
They said there was a "real prospect" that publication would cause substantial and possible irreversible harm to the claimants.
The judges granted "an interim injunction preserving the confidentiality of the information pending a full trial".
Conservative MP James Cleverly said Lord Hain's action had shown "people must now realise that injunctions and super-injunctions are nothing more than a good way to part with large sums of money and a bad way to keep things secret".