A tram-train derailed when it collided with a lorry within hours of the launch of a much-heralded new service.
Four Stagecoach Supertram passengers suffered minor injuries when the crash occurred in Sheffield shortly before 3.20pm on Thursday, a spokeswoman for the operator said.
The tram hit a flatbed lorry, pushing it around 30ft sideways at a point where Staniforth Road crosses the tram tracks near to the Woodbourn Road tram stop, about half-a-mile from the city centre.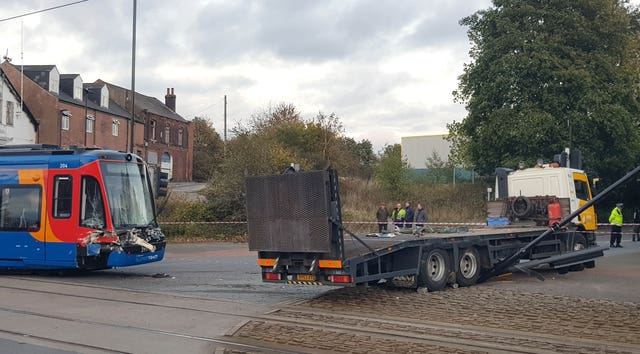 The tram-train involved in the crash was used for tram-only journeys over the past year and was travelling on a tram section when it collided with the truck on the route between the city centre and Meadowhall shopping centre.
A Stagecoach Supertram spokeswoman said: "We can confirm that a collision took place this afternoon between a lorry and one of our vehicles shortly before 3.20pm on Staniforth Road. No-one has been seriously injured, however a small number of people were treated at the scene for minor injuries.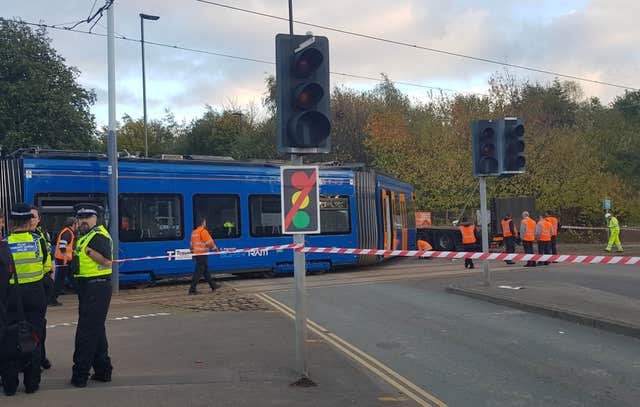 It is understood the tram signal was on green at the time of the collision.
The traffic lights around the junction were not working after the collision, with signs warning motorists of the situation.
But it is not clear whether the lights were working before the crash.
Rhyse Morgan, 27, spotted the tram on his way to work and thought it had derailed.
"We noticed it was the new train-tram but then seen it was more serious with the amount of emergency services," he said.
It was finally launched on Thursday morning with a ceremony which included Rail Minister Jo Johnson and Sheffield City Region Mayor Dan Jarvis.
Mr Johnson said at the event: "The first tram-train journey is a milestone moment that will give commuters cleaner, more frequent and more reliable journeys across Sheffield and Rotherham.
"This pioneering project brings together innovation, state-of-the-art technology and our existing infrastructure to give passengers better journeys.
"It lays the groundwork for ambitious transport schemes right across the country that should give commuters more choice."
In December last year, the Commons Public Accounts Committee described the scheme as an example of "how not to" manage a rail project.
It was delayed by almost three years, with services due to begin running in December 2015.
It is intended to be a trial to test the concept for possible wider roll-out across the UK to reinvigorate under-used rail lines, improve access to city centres, and release capacity at mainline stations.