Judges have been given a 2% pay rise as the Government attempts to tackle a recruitment crisis in the judiciary.
Ministers said the increase is the largest for nearly 10 years and is in line with awards for other public-sector workers including doctors and police officers.
It means the annual salaries across seven judicial pay brackets will range from £110,335 to £257,121.
The announcement follows warnings that the judiciary has been hit by major recruitment difficulties.
Lord Chancellor David Gauke said: "Our independent judiciary is the cornerstone of the rule of law, and effective remuneration is critical to the continued attraction and retention of high calibre judges."
He acknowledged that the rise, which will come into effect immediately and be backdated to April 2018, is lower than the 2.5% recommended by the independent salary review body.
"In reaching our final position for the 2018/19 pay award, the Government has had to balance the need for affordability for the tax payer and future sustainability of public services whilst ensuring that pay awards are fair and consistent across the public sector," Mr Gauke said.
On Friday the Government also published a major review of the judicial salary structure carried out by the Senior Salaries Review Body (SSRB).
The report highlights recruitment problems which are "principally occurring because the conditions of service for a judge have become much less attractive to potential applicants".
It says: "The problem is that potential judges from the senior ranks of the legal profession are not applying in sufficient numbers."
The review recommends rises to gross pay of up to 32% for some judges covered by a 2015 pension scheme.
Mr Gauke said no decisions have been made on this recommendation, and others contained in the review.
"This Government is acutely aware of the recruitment challenges we face at senior levels of the judiciary," the Lord Chancellor added.
"I recognise the importance of ensuring the reward package for judges is sufficiently attractive to enable us to attract excellent candidates to judicial office.
"I will make a further announcement when I am in position to set out in full the government's response to the major review."
The SSRB recommended a 2.5% increase as an interim measure while the Government considers its response to the major review.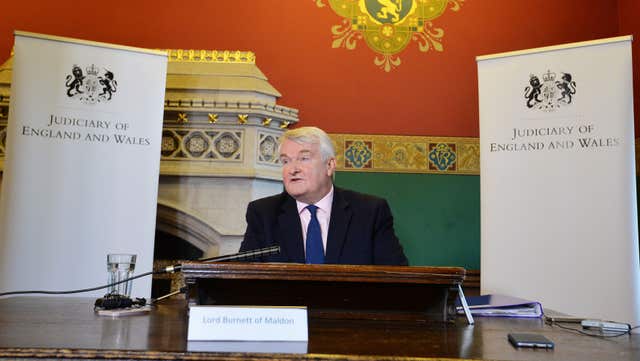 "As the Government has said, the quality of our judiciary is a critical part of maintaining the UK as an attractive place to settle disputes and English Law a pre-eminent choice for contracts.
"We look forward to the careful consideration of what changes might be made to the judicial remuneration package, promised by the Government, providing a rapid solution to these problems before the recruitment situation further deteriorates."