A former Ireland and Ulster rugby player trying to recoup his legal fees after being acquitted of rape has offered no evidence to support his claims of financial hardship, a court has heard.
A prosecution barrister said lawyers for Stuart Olding, 25, had been given "ample opportunity" to detail the extent of the claimed impact on his finances but had chosen not to.
Rosemary Walsh urged judge Patricia Smyth to reject Mr Olding's application for the Northern Ireland Public Prosecution Service (PPS) to pay his legal bill for the rape trial.
Olding and former club and international teammate Paddy Jackson were both unanimously acquitted of raping the same woman after a high profile trial in Belfast earlier this year.
Both men are trying to make the PPS pay the significant costs they accrued during the marathon case. Mr Jackson's application was heard earlier in the year with a ruling still pending.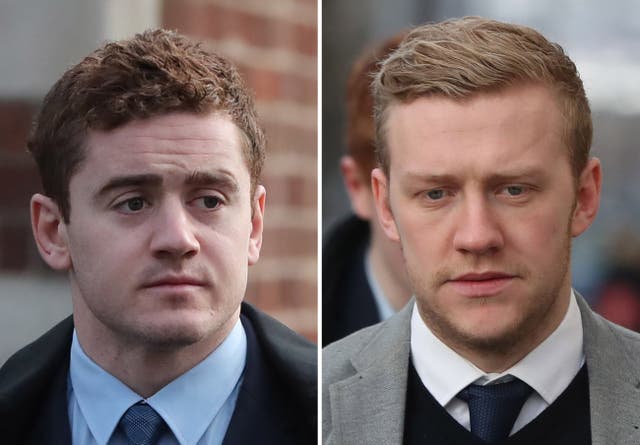 Responding to the application at Belfast Crown Court on Friday morning, PPS barrister Ms Walsh said no details of Mr Olding's current financial position had been offered in evidence.
Mr Olding is currently playing for Brive in the second tier of French rugby. Despite their acquittals, he and Mr Jackson were sacked by Ulster and Ireland amid controversy over a series of explicit WhatsApp messages that were revealed during the trial.
"It's a matter for this court as to whether the financial circumstances of the applicant are taken into account," said Ms Walsh.
"But your honour is being asked to do that in circumstances where no evidence has been put before this court."
She said the court had been given no details around the termination of his contract; the compensation he might have received for being sacked; his current salary at Brive; the terms of his recent contract extension at Brive; whether he received relocation expenses for moving to France and what happened to a property in Belfast.
In a brief submission during the hearing, a lawyer for Mr Jackson, who was also in attendance, noted that playing contract details were "commercially sensitive".
In her arguments, Ms Walsh rejected the contention that the prosecution against Mr Olding should not have proceeded, pointing out that during the trial the defence did not seek to ask that proceedings be halted due to lack of evidence.
She also denied that the profile of Mr Olding had been a factor when deciding to prosecute.
The barrister claimed the applicant was being selective about the rape trial to present an unfair picture of how the case was conducted.
"The applicant has tried to cherry pick from the prosecution and defence cases and present a set of circumstances that don't fairly or accurately reflect the totality of evidence presented to this court," she said.
"There are a number of significant factors that have been completely overlooked by the applicant."
Judge Smyth will deliver her ruling on both Mr Jackson and Mr Olding's applications at a later date.