Philip Hammond has signalled the Government is ready to invest billions in Britain's infrastructure as he prepares to unveil his Budget in the Commons on Monday.
The chancellor is expected to announce £28.8 billion to upgrade England's motorways and other major arterial roads in a drive to improve economic performance and address the "productivity gap".
In an interview with The Sunday Telegraph he also hinted there would be more money for defence and superfast broadband when he sets out his plans in the Commons.
Mr Hammond also signalled his determination to pursue a digital tax to ensure internet giants like Facebook pay a greater share of their profits into the Exchequer.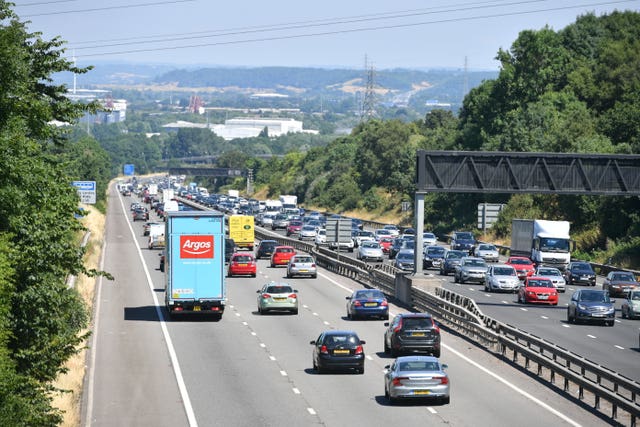 "The fundamental health of the economy is plain to see. We are operating under a cloud of uncertainty. But notwithstanding that the behaviour of the economy is buoyant," he said.
The Chancellor was handed an unexpected pre-Budget boost by the Office for Budget Responsibility which suggested stronger than expected tax receipts and slower Government borrowing could hand him an additional £13 billion.
He made clear he was determined to maintain long-term investment in the country's infrastructure.
"Sometimes the easiest thing for a government to cut in the short term if it's under pressure is capital investment," he said.
"It is the spending on the skills of the next generation, the infrastructure, including the digital infrastructure, the broadband infrastructure.
"For the 21st century broadband is to roads in the 20th, railways in the 19th, and canals in the 18th. It's the network infrastructure that will make this country work."
As well investing in the road network – with a further £420 million for councils to repair potholes – the Telegraph reported he was preparing to spent at least a quarter of a billion pounds to help connect rural areas to the high speed internet.
Mr Hammond said it was only through such measures the UK could hope to close the productivity gap with other major industrialised nations.
"The bottom line is that if we're going to deliver rising real wages and rising living standards for the British people we have to raise Britain's productivity performance," he said.
"It is just not acceptable, and neither is it necessary that a German worker or an American worker produces 30% more output per hour worked than a British worker.
"We compensate for that by a culture of long hours and lower pay. That's not my vision for the future of this country."
After having previously having clashed with Defence Secretary Gavin Williamson over defence funding, Mr Hammond indicated there would be extra cash in the Budget for the armed forces.
The Telegraph said there could be a cash injection for the military of up to £1 billion ahead of a long-term spending settlement next year.
"You are looking at someone who was defence secretary for three years. I absolutely get the problems and the challenges in defence," he said.
"It's about how we support the men and women of our armed forces going forward to ensure we've got the configuration that we need to keep Britain safe, to project our power and influence in the future, and there is nobody more committed to that mission than me."
Mr Hammond, who raised the prospect of a digital tax on the internet giants in his Conservative Party Conference speech in Birmingham said the Government still hoped to get international agreement on the issue.
However if that proved impossible, he indicated the UK was ready to act alone.
"It will be much more effective and much more durable and much less easily avoidable if it's done on an international basis," he said.
"But British people have a really very strong sense of fairness, and there is a real sense that it is just simply unfair that these very large internet companies are not paying their fair share of tax in the UK.
"And when you get a really strong, across the board, sense of unfairness among the population something has to be done."
While he said acting unilaterally would be "sub-optimal", it would still be preferable to "doing nothing and looking as though we're being walked all over by companies that are too big for us to control".