Sinn Fein has blamed the personalised nature of the brief Irish presidential campaign for its disappointing showing.
The party effectively triggered the election but did not name its candidate, Liadh Ni Riada, until September for a contest dominated by incumbent Michael D Higgins.
Sinn Fein's share of the vote dropped sharply.
Mrs Ni Riada said: "You just have to take it on the chin."
Much of the focus during the campaign was on the expenses of Mr Higgins, until the final week when candidate Peter Casey said Irish Travellers should not be treated as a separate ethnic minority.
Mrs Ni Riada said: "It is different to political elections in that regard, it is much more personality-based, and had we had more time people would have got to know me better, I am hoping."
But she said it was good to take a chance.
"It is always good to put yourself forward, it is always good to challenge yourself and ideas, that is really important."
Leader Mary Lou McDonald has defended her party's decision to contest the election, the first in seven years, rather than giving Mr Higgins a second term without challenge.
She told broadcaster RTE the presidency should not run for 14 years "without punctuation" for a role that costs the state 8 million euro (£7.1 million).
The last poll was in 2011, when her party fielded the hugely-recognisable former Stormont deputy first minister and peace process negotiator Martin McGuinness.
He won 14% of the vote.
Mrs Ni Riada received the vociferous backing of her party leader.
But her posters did not feature the party's logo.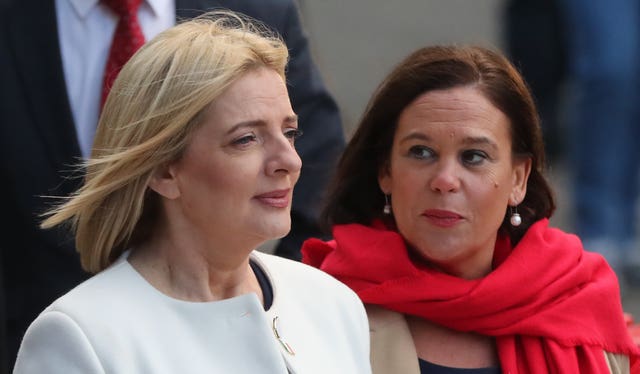 Polling ultimately suggested that expenses played a relatively minor role in deciding people's voting intentions.
The turnout was also low, with no sign of the large youth vote which has galvanised past Sinn Fein campaigns.
Traditionally, the party has faced challenges in the Republic because of its support for the IRA during the Northern Ireland conflict, which largely ended in 1998.
It has fended off continued criticism from unionists about what they term the "glorification" of terrorism, which republicans justify as commemorating their dead.
While votes were being counted on Saturday, in west Belfast republicans remembered Thomas Begley, who was killed by his own bomb which exploded prematurely at a fish shop on the Shankill Road 25 years ago, killing nine innocent people.
Candidates for the presidential election were asked during a live TV debate if they would wear the poppy, the symbol of the Royal British Legion, on Armistice Day next month.
Ms Ni Riada replied that she would. Her answer drew criticism from members of her own party, some of whom see the poppy as too closely associated with the British military, and she admitted the topic was divisive, especially within Sinn Fein.