A man who died following a fall from a third-floor flat during an aggravated burglary has been remembered as a "great guy" by neighbours.
Sheiku Adams, 49, fell from the flat in Denyer House in Highgate Road, Camden, north London, where police were responding to reports of a forced entry.
Police were called on Thursday at 9.05pm and discovered the victim on the ground outside with serious injuries. He was taken to a north London hospital, but was pronounced dead at 11.56pm.
Police have described it as "a targeted attack".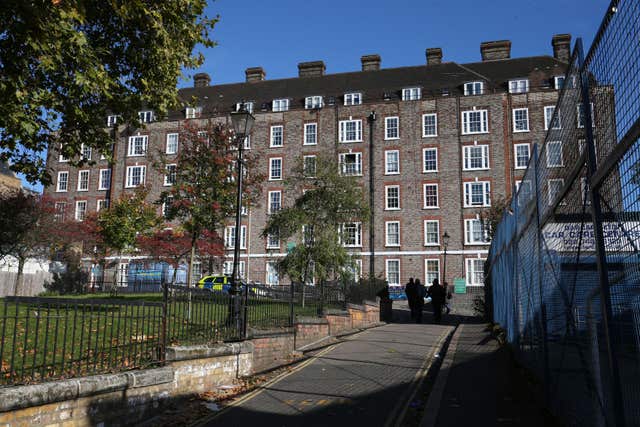 "He was a very devout man and a very nice guy. He never had a bad word to say and always said hello to people.
"I just knew him as Danny, a better guy you couldn't hope to meet.
"I don't understand why they chose that flat. This is nice place to live, everyone is nice and friendly so it's very strange."
Another neighbour, who said Mr Adams had been part of a "lovely family", added: "It's a shame, it really is. It was a shock when I heard about it."
Mr McHugh said: "Tragically a man has lost his life in what appears to have started as an aggravated burglary and ended in his death, after he fell from a third-floor window.
"It is very early in the investigation, but I believe two men forced their way into the flat armed with at least one knife.
"This appears to be a targeted attack and there will be people out there who will know who is responsible for the events that led to Sheiku's death. I need to hear from those people as a matter of urgency.
"We need to understand the circumstances as to how Sheiku came to fall out of the window and we are appealing to any local residents who saw two men loitering around the area before 9pm to come forward.
"We will be working around the clock to piece together the circumstances of this case and bring those responsible to justice.
"What we need now is for witnesses and people with information to do the right thing and contact us as a matter of urgency. Any information, no matter how insignificant you think it is, will be treated in the strictest confidence and will assist us greatly in this investigation."
A police cordon was in place at the front of Denyer House, blocking off a footpath and access to the building via Chetwynd Road on Saturday morning.
The cordon was manned by uniformed officers and a third-floor window was open but blocked by black sheeting.
A police forensic van was parked behind the block of flats and teams in blue boiler suits were seen entering the building.
Anyone with information should contact the incident room on 020 8785 8099 or call 101, quoting CAD 7474 of October 25.
Information can also be provided anonymously to Crimestoppers by calling 0800 555 111 or visiting crimestoppers-uk.org.