Chancellor Philip Hammond has warned that the Government will have to adopt a new economic strategy if Britain leaves the European Union without a deal with Brussels.
On the eve of the Budget, Mr Hammond said he would have to tear up his plans for the economy and set out a new Budget if there was no Brexit deal when the UK leaves the bloc in March 2019.
"If we were to leave the European Union without any deal – and I think that's an extremely unlikely situation but of course we have to prepare and plan for all eventualities as any prudent government would – if we were to find ourselves in that situation then we would need to take a different approach to the future of Britain's economy," he told Sky News's Sophy Ridge on Sunday programme.
"We would need to look at a different strategy and frankly we'd need to have a new Budget that set out a different strategy for the future."
He added: "We would want to see how markets and businesses and consumers responded to that.
"Then, as any responsible government would, we would take appropriate fiscal measures to protect the economy, to prepare us for the future and to strike out in a new direction that would ensure that Britain was able to succeed, whatever the circumstances we found ourselves in."
The Chancellor also hinted he would use his Commons statement on Monday to provide additional funding to smooth the transition to Universal Credit amid warnings low income families are being driven into debt.
"I've already put over £2 billion pounds into, over the last two Budgets, into smoothing that transition," he said.
"We continue to look at how this process is working and if we find cliff edges and difficulties, frictions in the move from the old benefits system to Universal Credit then of course will always try to smooth those out and be pragmatic about it."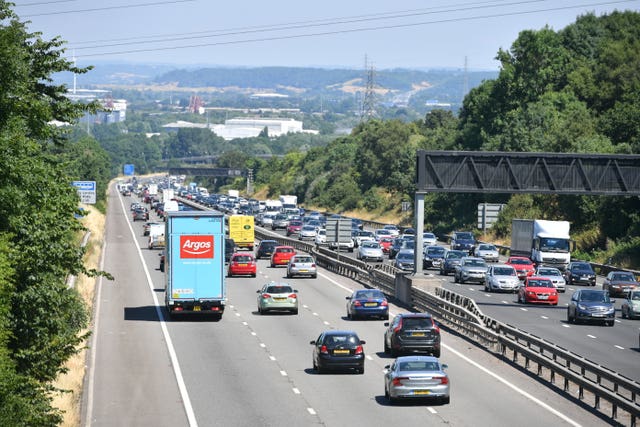 In an interview with The Sunday Telegraph, he also hinted there would be more money for defence and superfast broadband when he sets out his plans in the Commons.
Mr Hammond also signalled his determination to pursue a digital tax to ensure internet giants like Facebook pay a greater share of their profits into the Exchequer.
The Chancellor was handed an unexpected pre-Budget boost by the Office for Budget Responsibility, which suggested stronger than expected tax receipts and slower Government borrowing could hand him an additional £13 billion.
As well investing in the road network – with a further £420 million for councils to repair potholes – the Telegraph reported he was preparing to spent at least a quarter of a billion pounds to help connect rural areas to the high speed internet.
After having previously having clashed with Defence Secretary Gavin Williamson over military spending, Mr Hammond indicated there would be extra cash in the Budget for the armed forces.
The Telegraph said there could be a cash injection for the military of up to £1 billion ahead of a long-term spending settlement next year.
"You are looking at someone who was defence secretary for three years. I absolutely get the problems and the challenges in defence," he said.
Mr Hammond, who raised the prospect of a digital tax on the internet giants in his Conservative Party Conference speech in Birmingham, said the Government still hoped to get international agreement on the issue.
However, if that proved impossible, he indicated the UK was ready to act alone.
"British people have a really very strong sense of fairness, and there is a real sense that it is just simply unfair that these very large internet companies are not paying their fair share of tax in the UK," he said.
"And when you get a really strong, across the board, sense of unfairness among the population something has to be done."