Philip Hammond used his Budget to offer early tax cuts for millions of workers and extra cash for Whitehall departments, as he began the process of easing austerity.
Boosted by improved public finance forecasts, the Chancellor promised a "brighter future" after years of constraint imposed following the financial crash.
Measures announced in Mr Hammond's third Budget amounted to a total £100 billion loosening of the purse-strings over a six-year period.
A disorderly Brexit "could have severe short-term implications for the economy, the exchange rate, asset prices and the public finances", warned the Government's independent forecaster. "The scale would be very hard to predict, given the lack of precedent."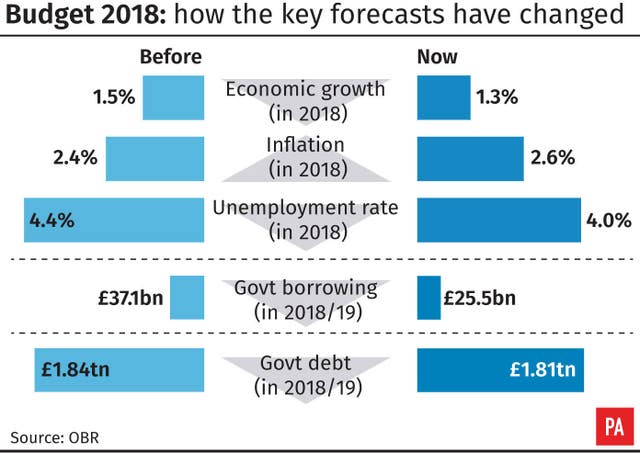 But while global tech firms will face a new tax, Mr Hammond promised a package of help for the nation's high streets which have suffered as shoppers have moved online.
Around 32 million Britons will be given an income tax cut as Mr Hammond brought promised increases in the tax-free personal allowance forward by a year from 2020 to 2019.
In the last scheduled Budget before Brexit, Mr Hammond said: "We are at a turning point in our history and we must resolve to go forwards, not backwards and work together to build a Britain we can all be proud of."
But Labour leader Jeremy Corbyn labelled Mr Hammond's statement as a "broken promise Budget".
He told MPs: "Whatever the Chancellor claims today, austerity is not over."
The Chancellor set out a five-year plan for departmental spending which will see Whitehall budgets rise by an average of 1.2% a year.
However, detailed figures made clear that the lion's share of this extra funding will go to the Department of Health to pay for a £20.5 billion boost to NHS spending, while other departments see their budgets rise in line with inflation.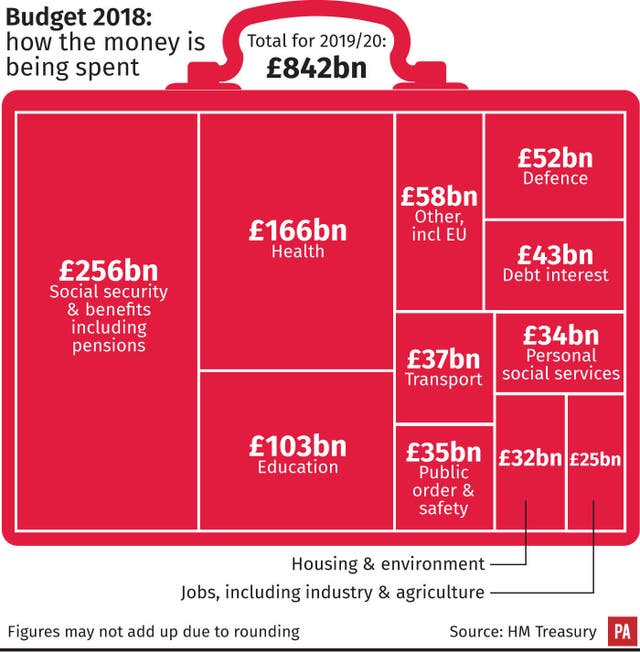 Setting out his income tax cuts, Mr Hammond said the personal allowance will rise to £12,500 from April 2019 and the higher rate threshold will rise to £50,000.
Mr Hammond said it would put "£130 in the pocket of a typical basic rate taxpayer". And the Treasury calculated the cumulative effect of increases in tax thresholds since 2010 at £1,200 for basic rate payers and £1,800 for those paying the higher rate.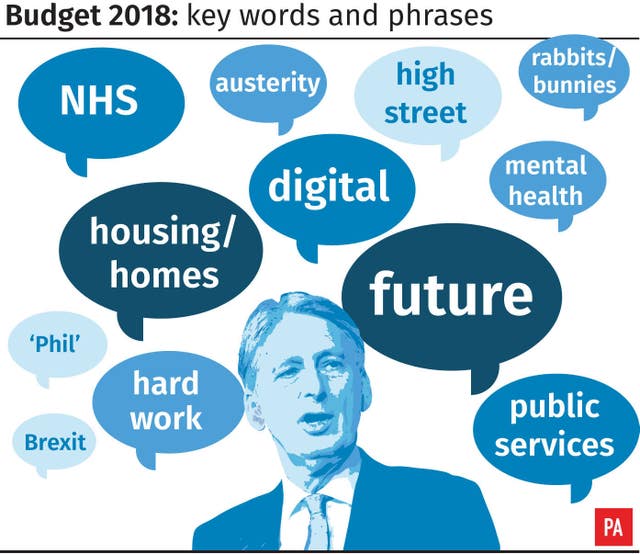 The measures include £1 billion over six years to help the transition on to the new system and a £1,000 increase in the amount people can earn before losing benefits, at a cost rising to £1.7 billion a year by 2023.
With an eye on Brexit negotiations, Mr Hammond announced an extra £500 million for preparations for the UK's departure from the EU in March 2019.
And he hinted that an emergency Budget could take place in the spring "if the economic or fiscal outlook changes materially in-year".
But he said agreement with Brussels would result in a "deal dividend" for the economy.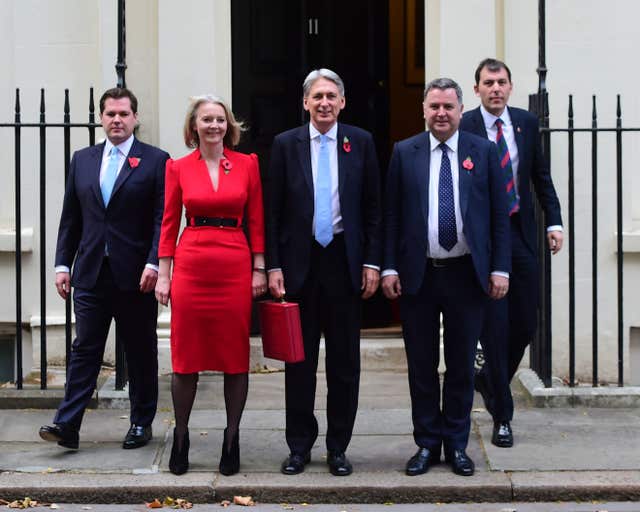 – The OBR upgraded its forecast for GDP growth in 2019 from 1.3% to 1.6%, then 1.4% in 2020 and 2021; 1.5% in 2022; and 1.6% in 2023.
– Borrowing this year will be £11.6 billion lower than forecast at the Spring Statement, at 1.2% of GDP, and is then set to fall from £31.8 billion in 2019/20 to £26.7 billion in 2020-21, £23.8 billion in 2021/22, £20.8 billion in 2022/23 and £19.8 billion in 2023/24.
– Debt peaked in 2016/17 at 85.2% of GDP and then falls in every year of the forecast from 83.7% this year; to 74.1% in 2023/24, allowing the Government to meet its target to get debt falling three years early.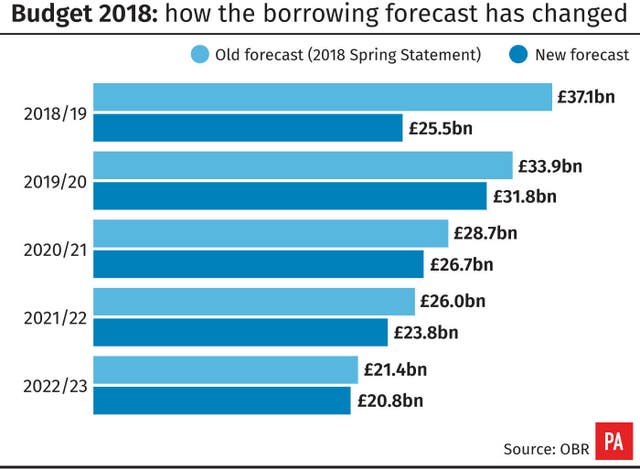 He also promised extra funding for health and social care – confirming extra cash for mental health services and £650 million for English councils struggling to cope with rising care bills.
Schools in England will be handed £400 million, an average of 10,000 per primary school and £50,000 for secondary schools.
A £420 million fund will help local highway authorities repair potholes and carry out other maintenance tasks.
In a major shift, the Chancellor also promised to abolish the use of the private finance initiative (PFI) and PF2 funding.
Mr Corbyn said: "What we've heard today are half measures and quick fixes while austerity grinds on.
"And far from people's hard work and sacrifices having paid off, as the Chancellor claims, this Government has frittered it away in ideological tax cuts to the richest in our society."
And Liberal Democrat leader Sir Vince Cable said: "This was all very modest stuff, with more in it for potholes than schools and the police. A standstill non-event.
"With growth remaining stubbornly low and Brexit weighing down our economy, it is clear the big problems are still to be tackled. It was a sticking plaster Budget, when major surgery lies ahead."