A gang of seven men has been convicted of sexually exploiting vulnerable teenage girls in Rotherham.
One of the complainants told a trial at Sheffield Crown Court how she had sex with "at least 100 Asian men" by the time she was 16 and another described how she was gang-raped in a forest and threatened with being abandoned there.
The case is the first major prosecution arising out of Operation Stovewood, the National Crime Agency's (NCA) inquiry into historical child sexual exploitation in the South Yorkshire town which has identified more than 1,500 victims.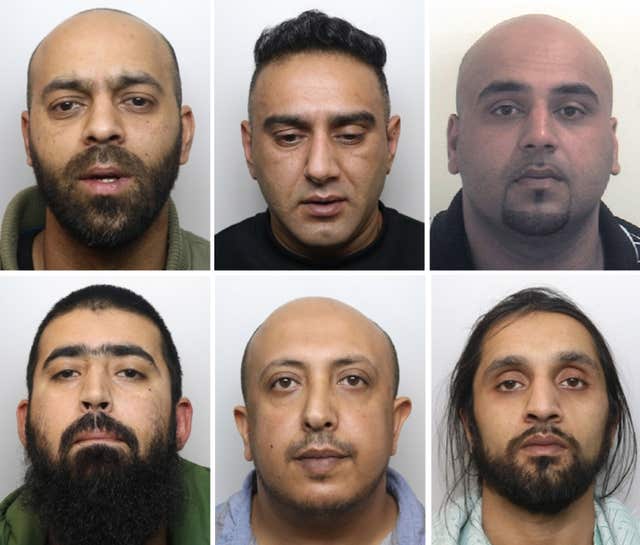 The jury in the trial which finished on Monday heard how girls, who are now in their 30s, were "lured by the excitement of friendship with older Asian youths" but then sexually assaulted and passed between men.
Prosecutors said the five complainants in the trial were easy to target because they needed to be loved.
Michelle Colborne QC, prosecuting, said: "When they were in their teens, they were targeted, sexualised and, in some instances, subjected to acts of a degrading and violent nature at the hands of these men who sit in the dock."
She said: "None of them had the maturity to understand that they were being groomed and exploited."
The prosecutor said they "believed sex of some kind or other was a necessary price for friendship".
The jury of nine men and three women was told how girls were given alcohol and drugs before they were passed between men in the town.
"They each suffer the emotional effects of that abuse to this day," Ms Colborne said.
The prosecutor said: "The girls were enthralled by older, Asian men, men who had cars and seemed exciting to them.
"They thought they were living the high life."
Ms Colborne said they were "frequently in cars stopped by the police but this did not deter the abusers".
The seven men who were convicted on Monday were told by Judge Sarah Wright they will be sentenced on November 16.
They were all remanded in custody.
Mohammed Imran Ali Akhtar, 37, of Godstone Road, Rotherham, was found guilty of one rape, one charge of aiding and abetting rape, three indecent assaults, one charge of procuring a girl under 21 to have unlawful sexual intercourse with another and one sexual assault.
Nabeel Kurshid, 35, of Weetwood Road, Rotherham, was found guilty of two rapes and one indecent assault.
Iqlak Yousaf, 34, of Tooker Road, Rotherham, was found guilty of two rapes and two indecent assaults.
Tanweer Ali, 37, of Godstone Road, Rotherham, was found guilty of two rapes, two indecent assaults and one charge of false imprisonment.
Salah Ahmed El-Hakam, 39, of Tudor Close, Sheffield, was found guilty of one rape.
Asif Ali, 33, of Clough Road, Rotherham, was found guilty of two indecent assaults.
Ajmal Rafiq, 39, of Warwick Street, Rotherham, was acquitted of all charges.
An eighth defendant, who cannot be named, was found guilty of two rapes.
The jury heard one of the girls describe how she could not remember how many men she slept with before she was 16 years old, but said it was "at least 100 Asian men".
Another girl recounted how she was forced to have an abortion by her parents after she was raped by a number of men in a forest, who told her they would abandon her if she did not comply.
The girl, who was about 14 at the time, was driven to Sherwood Forest by defendants Kurshid and Yousaf along with a third man, some time between August 2002 and August 2003, the trial heard.
Miss Colborne said that the girl was given cannabis and was "high as a kite".
She said: "Each defendant took turns in having sex with her.
"She was warned she had to do what she was told or she would be left there."
Ms Colborne said the girl was bitten during the alleged attack, leaving marks on her neck.
The prosecutor said: "She became pregnant as a result of the group rape.
"Her parents forced her to have a termination. She suffered a great deal of psychological trauma as a result."
Ms Colborne told the jury that the teenager, who is now in her 30s, "was passed from one group of Asian males to another and, over time, was very seriously abused".
Only one of the allegations made by the girls was reported to the police at the time.
This involved an alleged abduction and rape dating back 2002.
The girl reported the matter to South Yorkshire Police, but no-one was every prosecuted.
The defendant, who cannot be named, was acquitted of offences relating to that allegation by the jury on Monday.
Outside court, Robin Pearson, NCA investigations manager for Operation Stovewood, said: "I'm delighted for the victims who have had the courage to give the evidence in this case.
"They were young girls at the time – children, who were groomed and abused, plied with alcohol, plied with drugs, taken to remote locations and sexually abused by predators."
Of those convicted, he said: "No single one of them has shown any remorse. None have said anything to indicate that their behaviour was out of the ordinary.
"They were simply that, they were predators.
"They knew exactly what they were doing They were grooming children. They were making them believe that sexual activity was normal at their ages. The victims were 14, 15, 16 years old at the time and very vulnerable.
"Frankly, their behaviour was despicable."