Harry and Meghan comforted a schoolboy who became overwhelmed when he met the royal couple outside a cafe in Wellington.
The Duke and Duchess of Sussex had visited Maranui Cafe on Monday to meet with mental health workers and discuss their work.
Ten pupils from nearby Houghton Valley School got the chance to meet the couple as they left the cafe, with one of the children handing Meghan flowers.
Joe Young, five, was on the end of the line of pupils and rubbed his eyes as the royal visitors approached.
Monica Mercury, deputy principal at the school, said: "I'm a huge fan of Harry and I always wanted him to share his crazy life with someone and he finally found someone so I'm really happy for him.
"It's not every day this sort of thing happens.
"Joe was very nervous and Harry was very nice with him too."
The couple made their way down the line, with eight-year-old Max Dash giving the flowers to the duchess.
He said: "I gave her the flowers and she said thank you.
"It was so exciting. At the start I was a bit freaked out."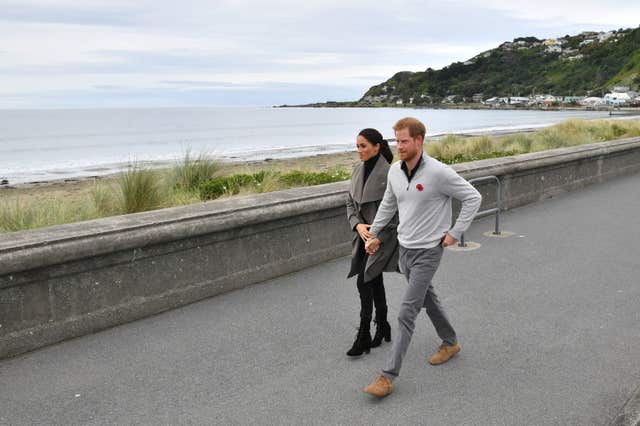 Mother-to-be Meghan, wearing Outland jeans, a Jac+Jack top and a Club Monaco coat, went back into the cafe and asked staff to bring out trays of cakes for the youngsters as she "really wanted all the food to be brought outside for the children".
Monica Young-Leathers, eight, said: "I begged to come up here and shake hands with Prince Harry and Meghan and surprisingly my teacher said yes.
"It was really exciting."
She said: "My granny sent a text to my dad saying I hope you get to curtsey.
"I said 'My name is Edith' and they said 'it's very nice to meet you'."
Rewa Ririnui, eight, said: "The most amazing thing ever happened to me.
"We were told we were going to get a big surprise and they said when they come down the stairs you'll get a thumbs up.
"And we wondered who was going to come down the stairs and I was so surprised when Harry and Meghan came down and shook our hands.
"We told them our names and what school we came from."