Philip Hammond's cash injection into Universal Credit may not be enough to keep families out of poverty, a Tory MP has warned.
Heidi Allen expressed her worry that the Chancellor's promise of billions to address concerns about the rollout of the flagship welfare reform would "only fix the symptoms", rather than the cause.
The South Cambridgeshire MP told the Commons that a £1.7 billion investment "cannot possibly undo the damage of a £3 billion cut".
The measures announced in the Budget include £1 billion over five years to help the transition on to the new system and a £1,000 increase in the amount people can earn before losing benefits at a cost of up to £1.7 billion a year.
She said that while some work allowances had been restored, others "fall well short of what we had pre-2015".
"Those claimants also in receipt of housing benefit will see their work allowances slightly better than they were in 2015, but given the benefit freeze, I'd say that four years later that's pretty much parity," Ms Allen explained.
"But a single parent, for example, not claiming housing benefit will see their work allowance increase to £492 a month from £409, but still far short of the £734 it was pre-2015."
She continued: "I worry that – and individually they're all welcome – the announcements today will only fix the symptoms and not the cause.
"We need to be honest and really sort out Universal Credit by restoring all work allowances for families with children or disabilities, and we must deal with the five-week initial wait: that is what will keep families out of food banks."
While she said she was grateful that the Chancellor had listened, Ms Allen concluded: "I fear it will still not be enough to keep Universal Credit out of the headlines, nor every family out of poverty."
Veteran MP Frank Field, who chairs the Commons' Work and Pensions Committee, said the Budget would do nothing for those "massacred" by the Universal Credit reforms.
He told MPs it would do little to help those who have been left "not only just hungry but also pushed towards destitution".
The Birkenhead MP said: "The whole of the Budget deficit has been put on families and particularity families with children.
"The Chancellor told us we were turning the corner and lifting the burden of austerity – surely those who've borne most in making a success of getting the Budget and fiscal deficit down should be first in the queue to get some relief?
"And there was no relief in the Budget for those cuts in the social security budget."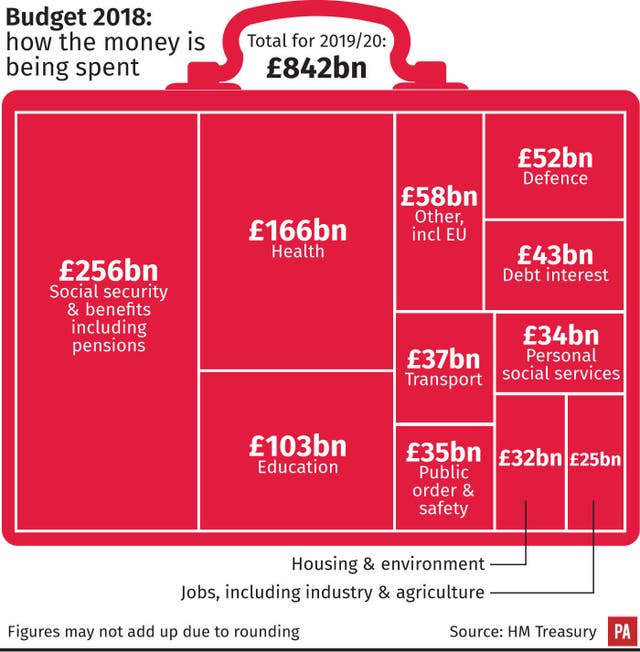 Labour MP Rachel Reeves, who chairs the Business, Energy and Industrial Strategy Committee, also hit out at the measures, telling MPs the Budget "only undoes one half of the cuts made by George Osborne to Universal Credit just two years ago".
She also derided the funding announcement for schools, saying: "If you look at the numbers, £10,000 for a primary school and £50,000 for a secondary school… that works out as something like £24 to £48 per child per year, 50p or a £1 a week, 20p a day per child.
"The Chancellor said it was to pay for those extra little things, well it's very little extra indeed."
Conservative Andrew Mitchell, a former junior social security minister, urged his colleagues to listen to Mr Field.
"I warn the Government front bench they ignore the wisdom of Mr Field at their peril," he said.